Bringing a Week of Marine Conservation Back Home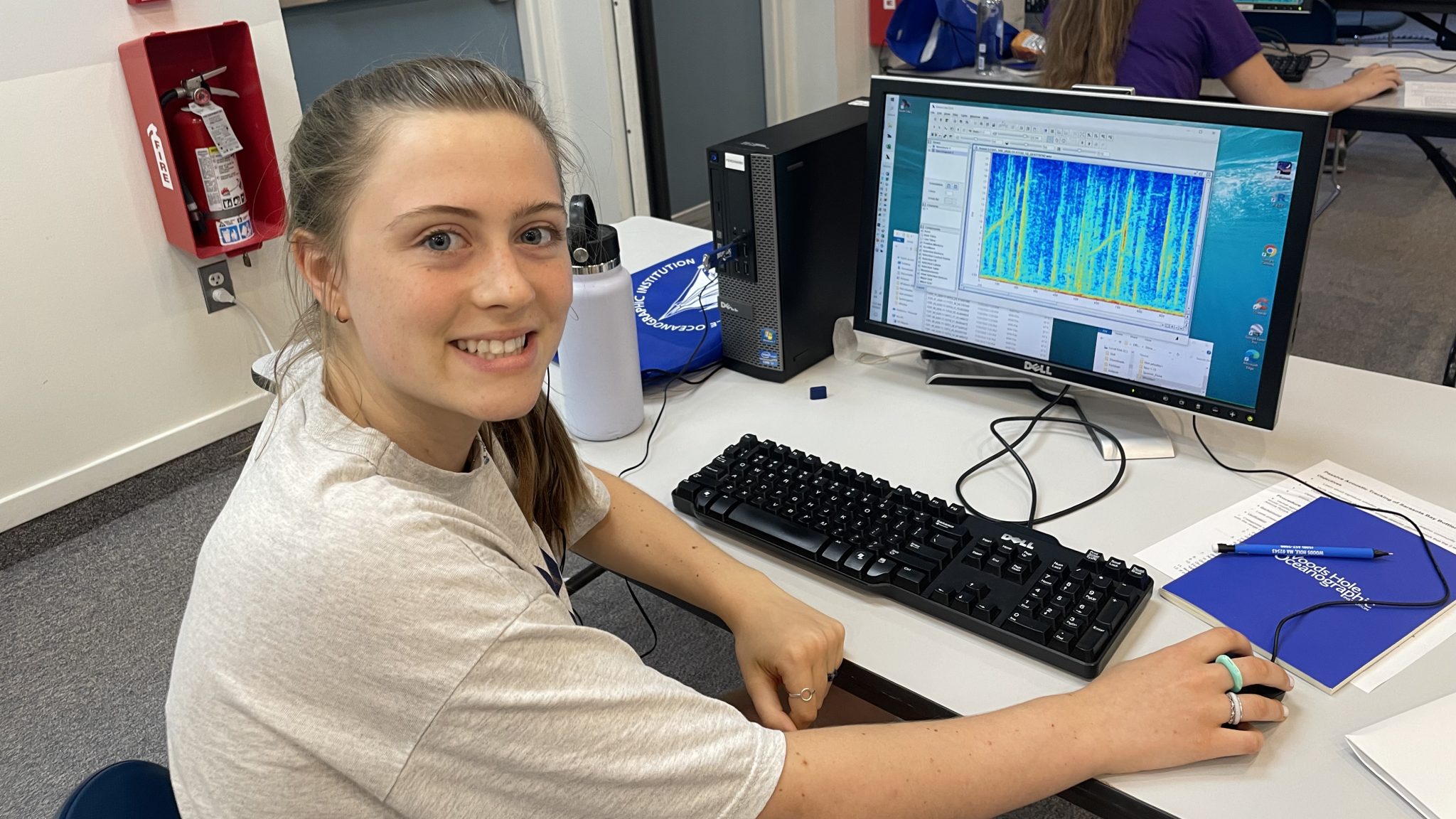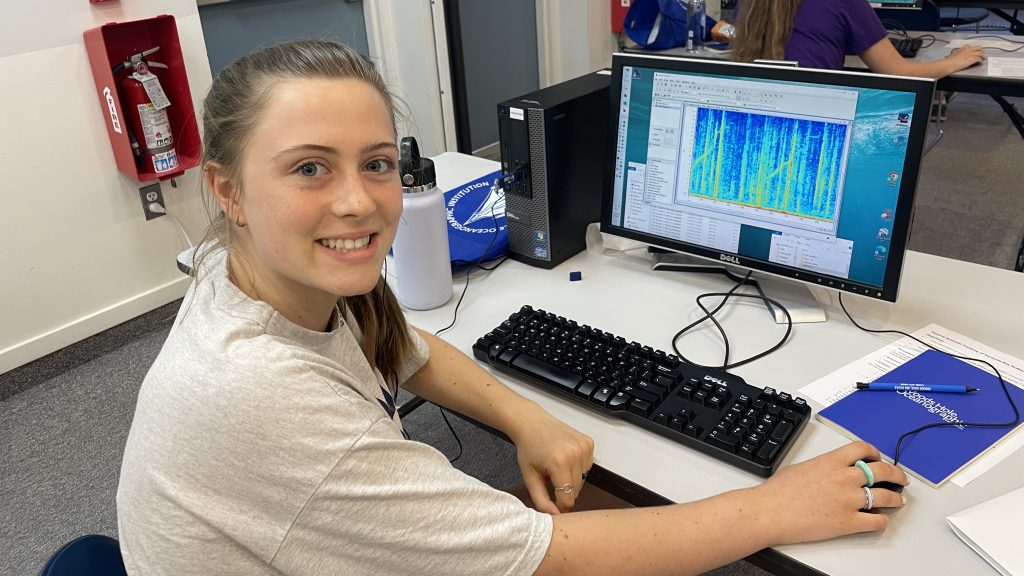 My experience at the Girls In Science WHOI Fellowship last August
By Ella Niederhelman, 2022 Fellow
From analyzing data in the lab to time on the water spent collecting it, last August I had an extraordinary opportunity.
Through Woods Hole Oceanographic Institution Sea Grant and the Earthwatch Institute, an international environmental nonprofit organization, I was selected alongside nine other fellows from across Massachusetts to study ocean conservation and bioacoustics at the week-long "Girls In Science" program, hosted by Woods Hole Oceanographic Institute (WHOI) Sea Grant in Woods Hole, Massachusetts.
I spent the week studying anthropogenic impacts on the ocean and how we use bioacoustics of dolphins and whales in marine mammal conservation. Working with real data collected by scientists studying dolphins in Sarasota Bay (FL), we fellows organized sound files and identified whistles of dolphins before sorting them into the time of day they were captured.
Through this time spent in the classroom and lab each day, all of the fellows were quick to bond. No matter where we were coming from, we all had something similar that brought us to WHOI.
Together, we learned what a signature whistle is — a unique whistle produced by each individual dolphin — the impacts of sound pollution on all cetaceans, how to efficiently collect, analyze, and draw preliminary results from data, and how sound waves can travel in vastly different manners throughout the ocean.

The ten fellows take on the water
With this understanding, we spent multiple days exploring dozens of other labs found within WHOI and visiting several surrounding nature organizations. We even headed out on a small research and education vessel — the Zephyr — and helped to capture marine organisms one day.
Later in the week we went out on a whale watch. With a hydrophone in hand — a recording device dropped below the surface to capture bioacoustics — we collected our own whale sounds to analyze.
Data collection did not stop there. We had the opportunity to construct our own miniature hydrophones,  try them out in the test tanks at the WHOI research center, and after ensuring they were ready for use,headed out on a kayak trip through the marshes.
Dragging the recording devices along behind kayaks, we were able to collect our own data to analyze and apply to ocean and marine ecosystem conservation.
It was this that ultimately brought the week full circle.
When this hands-on experience paired with the words of leading scientists, a common theme shone through — the importance of perseverance in these fields.
Within the stories of the dozens of female scientists working in oceanography that we met throughout our time at WHOI, the fellows learned that there is no single "right" way to get to where you want to be… But it all comes down to you.

Oceanography and journalism working hand-in-hand
As an aspiring climate and environmental journalist, I strive to pursue a personable narrative that can portray important information that helps to protect our planet and the life that lives upon it. This fellowship allowed me to take a step further in applying this at a local level.
Growing up in a small town along the North Shore, I have been fortunate enough to live along one of the nicest beaches in the country, a river, and expansive marshes. Naturally, an interest in marine and ocean life was sparked from the moment my toes hit the sand.
But through my experiences last summer, I have seen the impact humans can play on these environments first hand.
Facing new extremes, the Ipswich River plummeted. As of August 30, the endangered river recorded only 0.07 cubic feet per second — reaching a zero-flow level.
Each day I watched as the wildlife slowly began to disappear and the water levels steadily declined, exposing the rocks and tree limbs below the surface.
Crane Beach — the town's major attraction — had a constant population of tourists that brought another year of disruptions to the sand dunes that line the beach and to the wildlife populations that live within it.
Further, when data testing with my school's environmental club and green team in collaboration with local environmental organizations, we observed sea level rise that outpaced the buildup of sediment — known as accretion — within the marsh. If this continues, the entire presence of the marsh is threatened.
Having grown up surrounded by such marine ecosystems, I was able to bring an element of first-hand experience to the classroom with me each day. At WHOI, learning of the role humans play on marine ecosystems below the surface opened my eyes even wider. This is what pushed me to make these connections to the data collected and analyzed throughout the fellowship, making the experience even more powerful. As a result, I was empowered to bring my learnings back home to my community.

Bringing the message home
I am currently working toward incorporating what I learned at the fellowship into my environmental club's activities for the remainder of the year. I hope that the information will help to bring more youth into the subject of marine conservation, particularly at a local level.
Further, I have hopes to empower even greater numbers within my community. I have been fortunate to work as a journalist for our town's weekly paper since I was fourteen. Now, three years later, I have hundreds of articles under my belt and have formed many connections within my town.
I hope that I can use this position to influence and inform as many people as possible through compelling narratives, stories, and articles woven into science.
At a local level, I feel that this takes on a whole new importance.
With the knowledge, experience, and inspiration taken from my time at WHOI, I look forward to spending the coming months focusing further on weaving these interests together, and crafting an impact even larger than myself.