Natural Resource Managers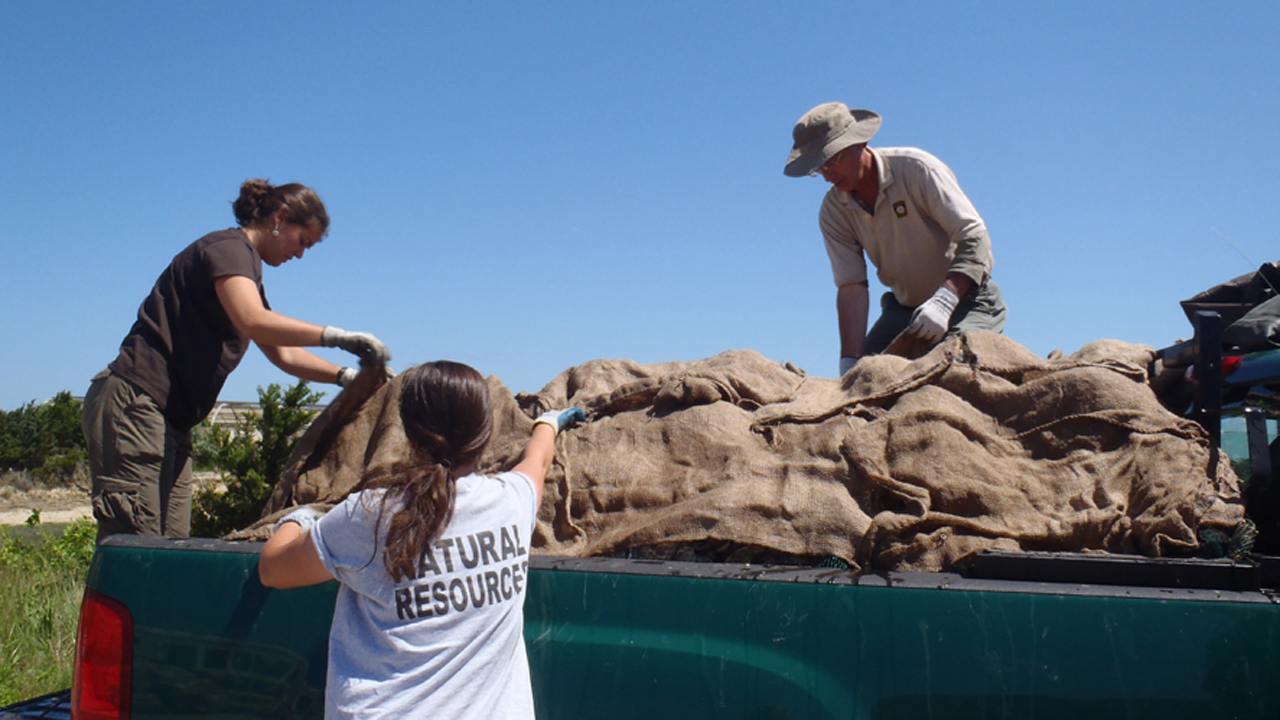 Our program assists town shellfish constables, river herring wardens, and other natural resource officers with problems concerning the management of coastal resources. Our focused research and extension activities contribute to the technical information required to help local natural resource managers manage the fisheries resources for continued sustainable production.
Shellfish Officers Research and Education (SHORE)
The program was developed in response to requests for assistance from town resource managers. In collaboration with the towns, Marine Program staff develop and implement experiments which help resource managers plan restoration and enhancement efforts. Shellfish monitoring gear is placed in locations where managers have questions about the effects of things like restoration efforts and tidal restrictions. The information is also useful for determining where new propagation areas can be started.
River Herring Network
Woods Hole Sea Grant  Extension Agent Abigail Archer provides help to the River Herring Network, a group of herring wardens and watershed organizations who gather to learn more about why the herring numbers are dropping, and what actions they can take to reverse the decline. Archer organizes annual meetings and keeps communication flowing year-round.
» Read more about the River Herring Network
Shellfish Propagation
The state's coastal waters are also the source for commercial and recreational shellfish harvest activities. As such, these resources are managed by each town and often enhanced through shellfish propagation efforts. In this capacity, WHSGEP helps manage a regional shellfish advisory committee and a yearly municipal shellfish propagation program whereby towns participate in a group bid process to reliably obtain quahog and oyster seed and at a contracted price and delivery date to maximize productivity.
These collaborative efforts annually net towns over 11 million quahogs and more than 3 million oysters, enhancing natural resources for wild harvest locally and providing economic benefits to the towns. In Barnstable County alone, permit sales for the more than 17,000 recreational harvesters and 1,000 commercial harvesters provide over $675K in yearly revenue to towns.
Shellfish Habitat Assessment
This program helps growers and managers to monitor and understand the shellfish growth and survival. Seed quahogs and seed oysters are placed within gear at four standard locations around Cape Cod:  Barnstable Harbor, Cape Cod Bay in Brewster, Pleasant Bay in Orleans, and Wellfleet Harbor. After a 2-month growing period the shellfish are harvested and the overall survival and daily growth rate are calculated. This work began in 2003 and we now have a time-series data set that is used to analyze trends in growth and survival of shellfish around the Cape.
Diseases of oysters and quahogs are a significant ecological deterrent to successful aquaculture in Massachusetts and pose a significant economic threat to the state's $28 million shellfish farming industry, its commercial growers, and the sustainable management of its public shellfisheries. To help reduce the scope and impact of this issue, Woods Hole Sea Grant conducts a number of programs to monitor for diseases in shellfish and respond to disease events.
 
Contacts
Harriet Booth
Fisheries and Aquaculture Specialist
Woods Hole Sea Grant and Cape Cod Cooperative Extension
(508) 375-6634
hbooth@barnstablecounty.org
Joshua Reitsma
Marine Program Specialist
Woods Hole Sea Grant and Cape Cod Cooperative Extension
(508) 375-6950
(508) 362-4923-Fax
jreitsma@barnstablecounty.org
Abigail Archer
Marine Resource Specialist
Woods Hole Sea Grant and Cape Cod Cooperative Extension
(508) 375-6702
aarcher@barnstablecounty.org
Testimonials
"Woods Hole Sea Grant and Extension staff have played a role either directly or indirectly with just about everything I do…without a doubt, Harwich Natural Resources is a more productive and efficient department because of Woods Hole Sea Grant and Cooperative Extension."
--Heinz Proft, Natural Resources Director, Town of Harwich, Mass.