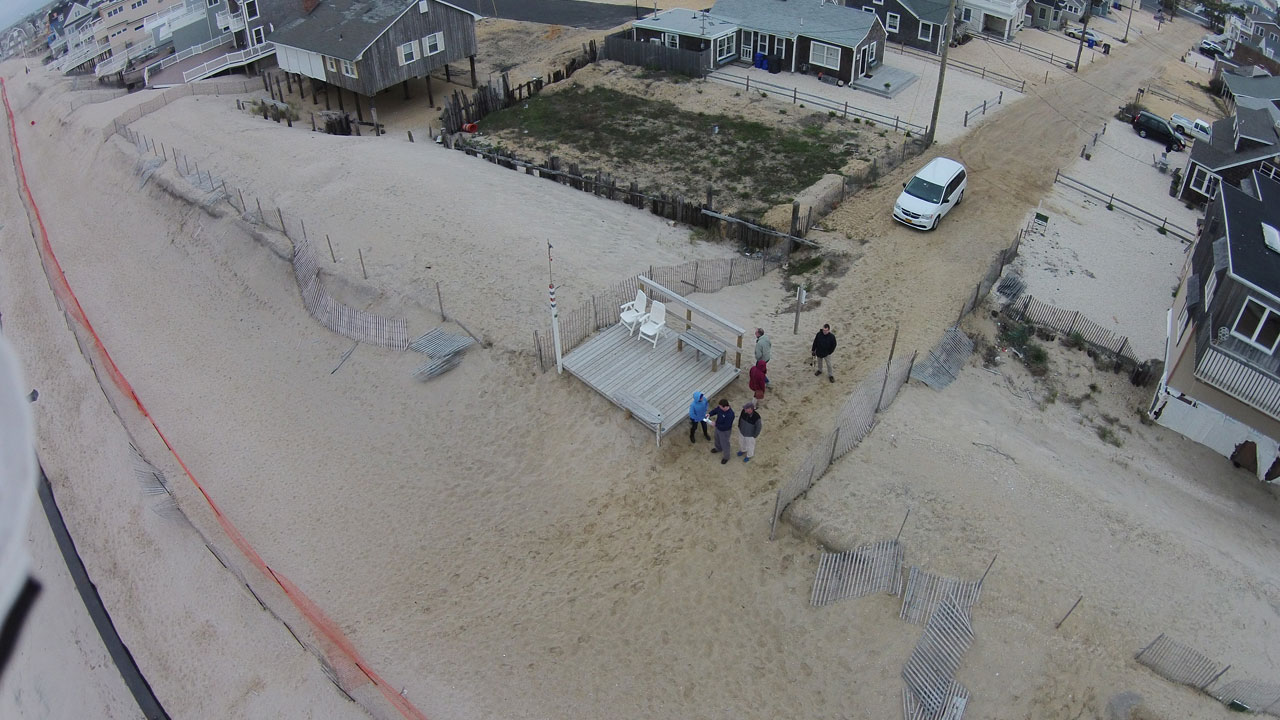 Coastal Processes
The Coastal Processes Extension agents provide technical assistance to the communities of Barnstable County on a variety of coastal land protection and management issues. This is accomplished through site visits, giving formal and informal presentations to regulatory, business, and community groups, and planning and conducting seminars, workshops, and meetings.
The Coastal Processes extension agent also conducts applied research on coastal resource issues and provides this information to user groups, develops and implements interdisciplinary community-focused research and extension projects, and assists local grant proposal efforts to fund these projects. Many of these research projects are developed into fact sheets, bulletins, and publications and are distributed to marine industries, municipalities, individuals, and agencies.
Floodplain Management
Floodplain management technical assistance helps towns make decisions about how to most appropriately manage their floodplains in the face of climate change and economic pressure, helps residents and businesses understand their flood risk and how to mitigate that risk, helps improve enforcement of existing regulations, and helps improve resiliency through training and accessibility for questions.
Woods Hole Sea Grant also provides guidance and assistance to towns with participating in the National Flood Insurance Program's Community Rating System (CRS), which provides discounts to towns for improving coastal resiliency.  The CRS coordinator helps municipal staff to assemble the required information for the CRS program application and continued assistance and advice to maintain and expand participation in the program.
» Learn more about the CRS
Our Programs
Technical Assistance
Extension agents provide technical assistance to coastal managers, municipalities and property owners on the following topics and issues:
» Shoreline change
» Erosion control alternatives
» Coastal landform delineation
» Potential effects of various human activities on coastal landforms
» Beach and dune restoration and stabilization techniques
» Coastal landscaping
» Implementation of the Wetlands Protection Act
» Coastal hazards and hazard mitigation analyses
» Sea level rise
» Storm surge
» Coastal floodplains
» Floodplain building and zoning regulations
» Flood insurance
» Elevation certificates
» Other coastal resources management issues
Coastal Processes Site Visits
Site visits generally address site-specific coastal processes or coastal hazards-related issues. Site visits are followed up with a written technical alternatives analysis. In the last ten years over 250 site visits have been conducted and over 7,000 people have attended presentations about coastal processes.
 
Contacts
Greg Berman
Coastal Processes Specialist
Woods Hole Sea Grant and Cape Cod Cooperative Extension
(508) 289-3046
gberman@whoi.edu
Shannon Hulst
Floodplain and Community Rating System Specialist
Woods Hole Sea Grant and Cape Cod Cooperative Extension
(508) 375-6952
shannon.hulst@barnstablecounty.org
Featured Project
Islands Coastal Conference
The Islands Conference alternates each year between Martha's Vineyard and Nantucket, attracting coastal managers, environmental organizations, town officials and staff, conservation commissions, planning boards, consultants, researchers, experts and partners from across the region to discuss a range of critical issues such as sea level rise, ocean acidification, storm flooding and erosion.  » Find more information about the Coastal Conference
Education
» Wetland Delineation Training
Woods Hole Sea Grant (WHSG) and its extension partner, the Cape Cod Cooperative Extension, collaborate with the Massachusetts Coastal Zone Management Program to provide training to Conservation Agents on Cape Cod. The training helps ensure that the natural and beneficial functions of coastal landforms were sustained. Since the 2017 training over 100 coastal projects have had the benefit of this additional expertise with similar numbers expected in subsequent years.
» Introduction to Floodplain Management
A bi-annual introductory training in floodplain management intended to help new floodplain managers get oriented, serve as a refresher for existing floodplain managers, and introduce the Certified Floodplain Manager program.
» Other Trainings and Workshops
As new training needs arise, we provide trainings or collaborate with other experts to provide them. Topics include elevation certificates, historic structures and flooding, among others.