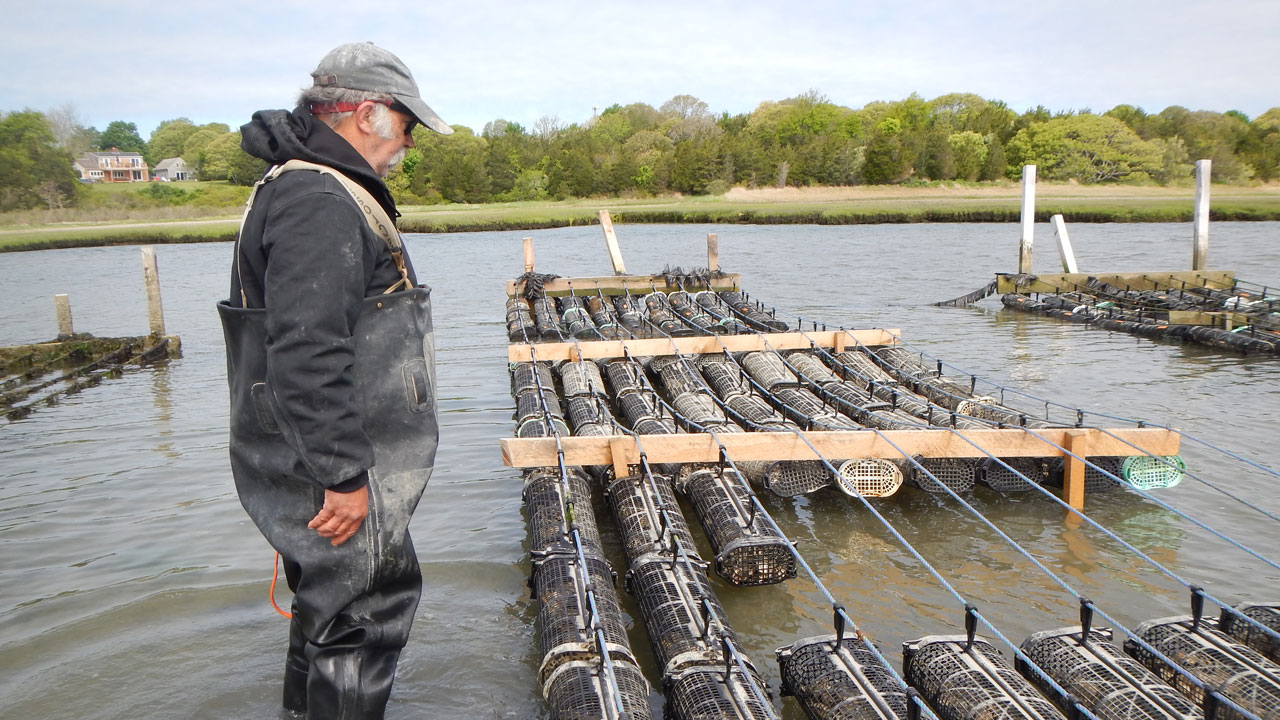 Our region is home more than 300 shellfish farming operations on over 1,000 acres. Woods Hole Sea Grant extension agents meet regularly with aquaculturists and provide them with technical assistance based on research and our knowledge of local habitats and conditions. WHSG also offers professional development opportunities to help shellfish farmers improve their operations. Among the services WHSG extension agents provide are (1) courses, lectures, and workshops; (2) regional shellfish disease monitoring; (3) site visits to farms experiencing any one of a myriad of possible issues; (4) predator/pest identification and advice on their control; (5) help with gear issues; and (6) water quality monitoring.
Testimonial
"Woods Hole Sea Grant's ongoing efforts to support our industry's remarkable growth -- through water quality and disease monitoring -- have proved crucial time and again. With few other sources of federal funding available for aquaculture research, we rely heavily on Sea Grant not only to undergird the success we've had, but to stimulate innovation that will create even more opportunities in the future."
- Chris Sherman, Island Creek Oyster
Aquaculture Programs
Shellfish Propagation
The state's coastal waters are also the source for commercial and recreational shellfish harvest activities. As such, these resources are managed by each town and often enhanced through shellfish propagation efforts. In this capacity, WHSGEP manages a regional shellfish advisory committee and a yearly municipal shellfish propagation program whereby towns participate in a group bid process to reliably obtain quahog and oyster seed and at a contracted price and delivery date to maximize productivity. The program benefits the 17,000+ recreational and 1000+ commercial harvesters in our region.
Shellfish Habitat Assessment
This program helps growers and managers to monitor and understand the shellfish growth and survival in their areas. Seed quahogs and seed oysters are placed within gear at four standard locations around Cape Cod:  Barnstable Harbor, Cape Cod Bay in Brewster, Pleasant Bay in Orleans, and Wellfleet Harbor. After a 2-month growing period the shellfish are harvested and the overall survival and daily growth rate are calculated. This work began in 2003 and we now have a time-series data set that is used to analyze trends in growth and survival of shellfish around the Cape.
Diseases of oysters and quahogs are a significant ecological deterrent to successful aquaculture in Massachusetts and pose a significant economic threat to the state's $28 million shellfish farming industry, its commercial growers, and the sustainable management of its public shellfisheries. To help reduce the scope and impact of this issue, Woods Hole Sea Grant conducts a number of programs to monitor for diseases in shellfish and respond to disease events.   » Read more
Research Farm Network enables Woods Hole Sea Grant, in collaboration with Cape Cod Cooperative Extension and SEMAC, to address shellfish farming issues relevant to the region through directed research studies.  Recent work focuses on the economic potential for alternative species such as surf clams, razor clams, and blood arks.
Water Quality Monitoring Program
Woods Hole Sea Grant's outreach partners at the Cape Cod Cooperative Extension monitor water quality at four embayments around Cape Cod.
»Learn more about this program