WHSG Project Explores Growth, Mortality of Surf Clam Species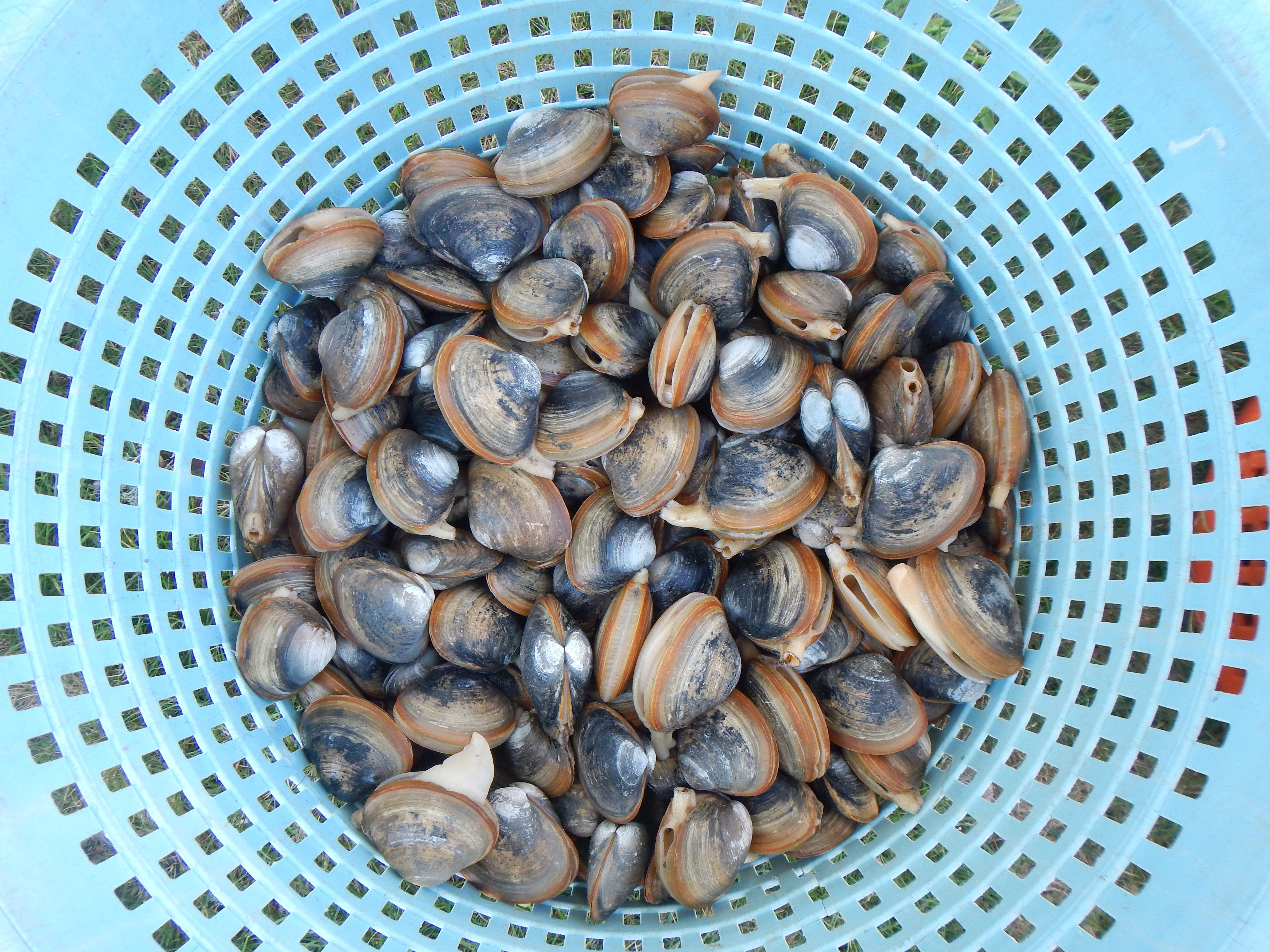 Atlantic surf clams, Spisula solidissima, are a type of clam common to the Atlantic coast from the Gulf of St. Lawrence to Cape Hatteras, NC. A subspecies also exists, the Southern surf clam, Spisula solidissima similis that ranges from the Gulf of Mexico to Massachusetts. These clams are harvested in the wild with boats and are often made into clam strips or minced clams. People involved in shellfish aquaculture have also been experimenting with growing surf clams on nearshore aquaculture leases.  When grown to 1.5-2 inches long the clams are referred to as 'petite surf clams' or 'butter clams'.
From 2016-2019, Woods Hole Sea Grant worked with partners at the ARC Hatchery, the Cape Cod Commercial Fishermen's Alliance, and several growers in Wellfleet and Barnstable to test out different growing methods for petite surf clams.  The results of those experiments can be found in the recently published Marine Extension Bulletin.  One of the findings of that work was that high temperatures in the summer caused many of the clams to die.
Based on those results, WHSG staff wondered if the Southern surf clam might grow better in Cape Cod waters, especially during the summer since it is exposed to higher temperatures in the southern part of its range.
Permission from the Division of Marine Fisheries was requested and they approved because the southern surf clam is naturally present in Cape Cod waters. Hatcheries raised both the Atlantic and the Southern surf clams, and WHSG sought out shellfish growers to work collaboratively on an experiment to compare mortality and growth rates of the two types of surf clam.
The photos below show the WHSG staff planting the clams with the help of shellfish farmers in Provincetown, Eastham, and Barnstable Harbor.  Four more sites are located in Wellfleet, Falmouth, Bourne and Chatham.
Hover on each photo for a caption and follow the narrative of what goes into an important project like this that is assisting our stakeholders and, eventually, consumers!