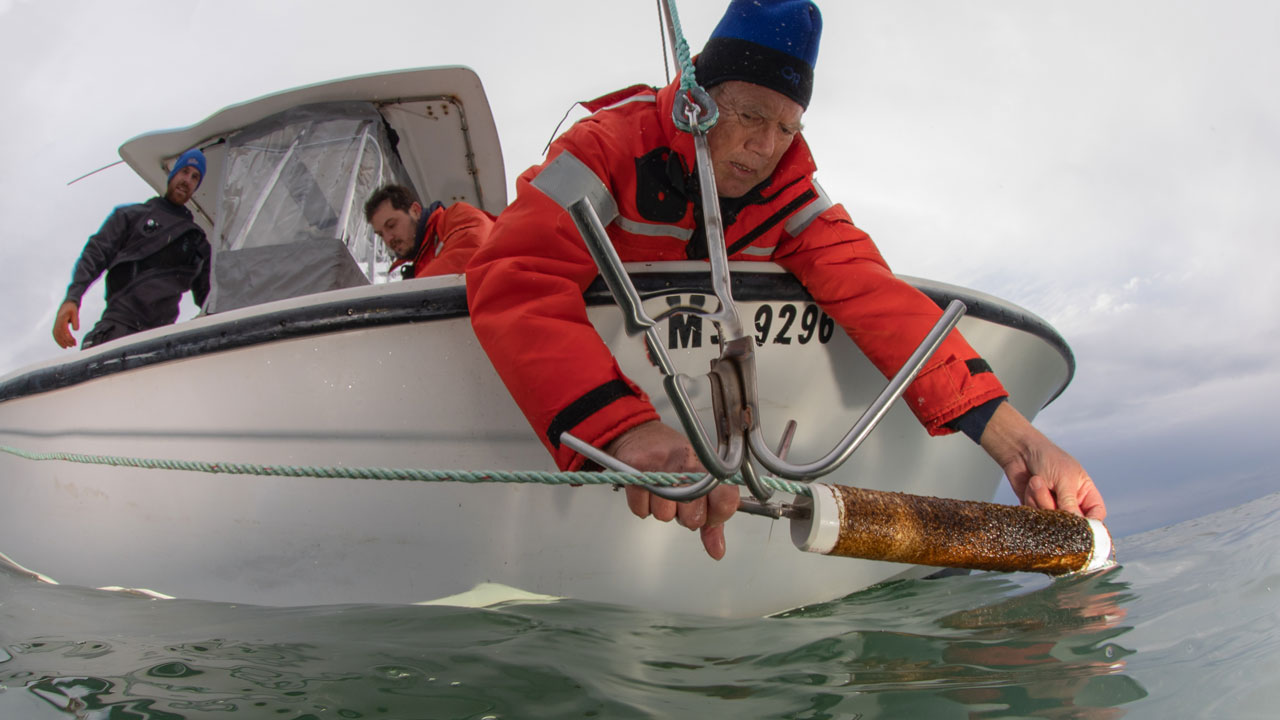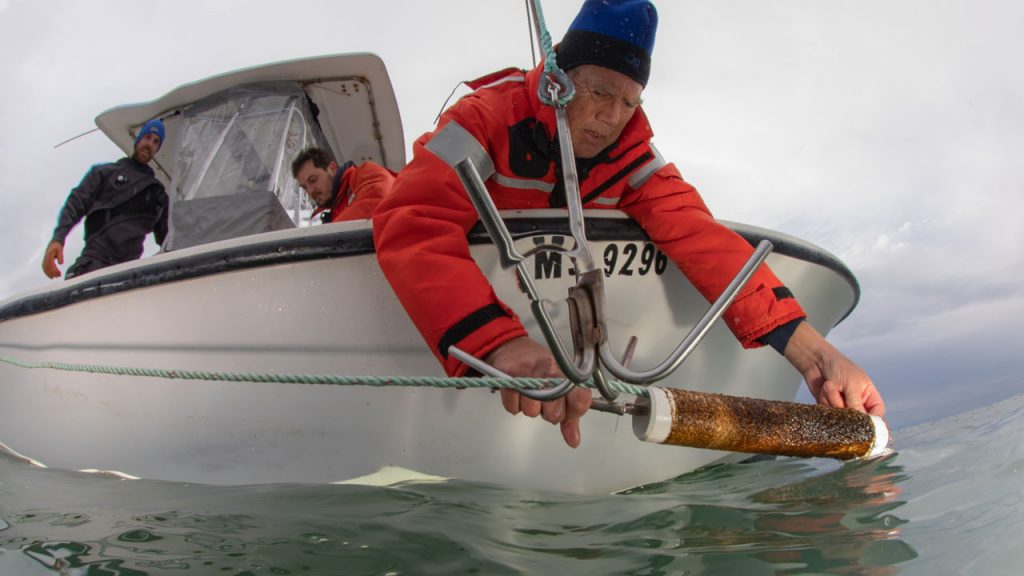 What do warming oceans mean for Massachusetts's nascent kelp farming industry?
Seaweed farming is a huge global business valued at $6 billion, yet in the U.S. it is still getting its sea legs. Around New England there are perhaps 40 – 50 farmers of all sizes and experience levels working small ocean plots of a native kelp species, Saccharina latissima, right now, with Maine at the forefront of regional production.
In Massachusetts, there are a handful of farmers, primarily around the Cape and Martha's Vineyard, pioneering kelp production in the Commonwealth. Do kelp forest declines in regions around the globe spell doom for kelp aquaculture before it can even get off the ground?
"We don't know whether warmer waters will be a big problem for aquaculture," says Jarrett Byrnes of UMass Boston. "Kelp is a winter crop, which could be advantageous."
To grow kelp, farmers suspend rows of rope seeded with kelp in late fall. Over the winter, the kelps grow vertically in the water column to lengths of 6 to 10 feet, and are harvested in early spring. It's sold dried or chopped and frozen for smoothies, and even fresh to be cut into long noodles for slaws, wraps, garnish or a substitute for pasta.
Unlike wild kelp forests, "farmed kelp doesn't have to survive the summer months," says WHOI Research Specialist Scott Lindell, who says kelp generally does well in water that's 17 degrees C (62.5 F) and below. "Ocean warming," he says, "might shorten the season for kelp farming in southern New England where it's grown close to shore."
Lindell has a number of kelp research projects ongoing, including a Sea Grant-funded project co-culturing mussels & kelp in collaboration with GreenWave (CT) non-profit farming organization, and an acre-sized research farm just 10 minutes by boat from the WHOI dock. The research is contributing to knowledge of growing conditions for farmed kelp and the strains that prove most successful.
"One of the exciting things about kelp aquaculture is that there's a lot of back and forth between basic research and aquaculture," says Byrnes.
Both Byrnes and Lindell say kelp aquaculture is still in the early stages, with variability in where and when farmers get their kelp seed and inconsistency in their yields. But the exchanges and collaborations between farmers and scientists are helping New Englanders get to know kelp. Because kelp farming is most active in the winter, it is a way for fishermen to supplement their income in slower months. And harvesting farmed kelp is one way to help preserve the wild kelp forests.