Q&A with Knauss Fellow Sophia Ly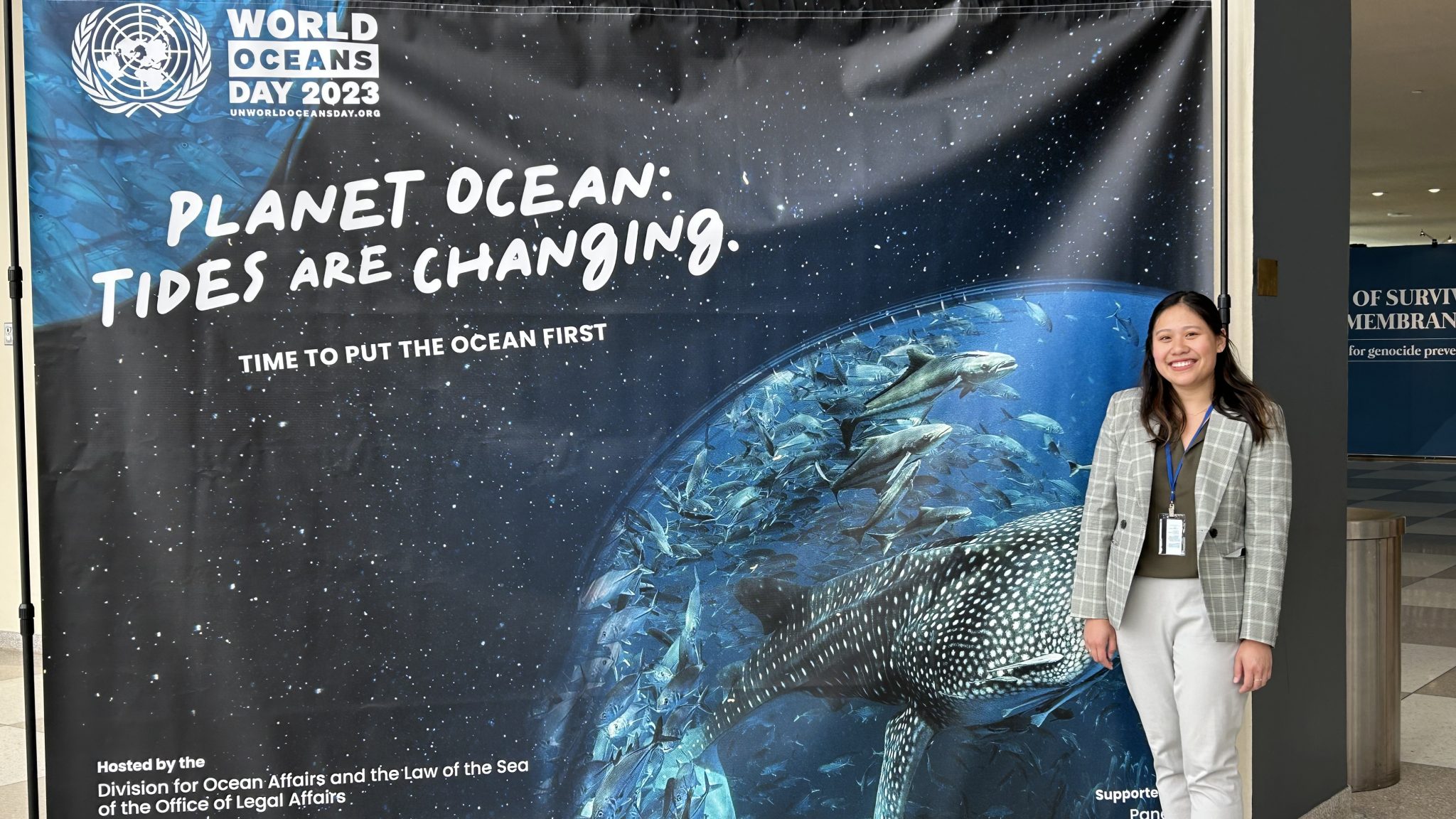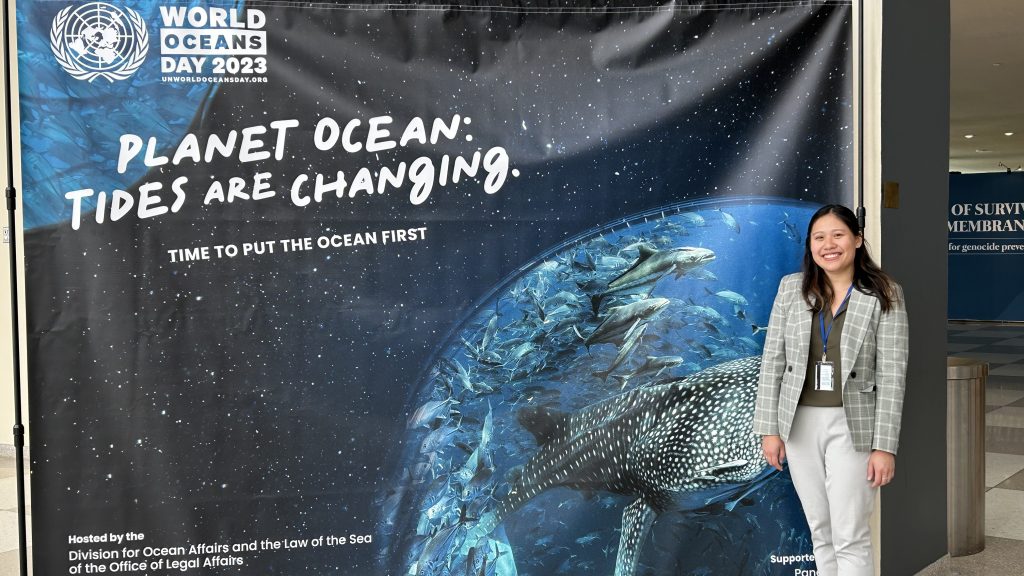 Photo caption: Sophia Ly at the UN Headquarters in New York in NYC during the 23rd meeting of the United Nations Informal Consultative Process on Oceans and the Law of the Sea (ICP). The meeting, held June 5-8, 2023, coincided with UN World Oceans Day.
Hometown: Newton, MA
Area of research focus/interest: International Environmental Diplomacy and Policy
What are you doing during your Knauss Fellowship? I am working in the executive branch in NOAA's Office of International Affairs (OIA), and it's been incredible because no two days are ever the same. One day I'm working on NOAA-Cuba relations and coordinating funding mechanisms for NOAA projects in the Pacific Islands, and the next I'm collaborating with Arctic Council partners. Other days are filled with facilitating panelists for the UN Informal Consultative Process on Oceans and the Law of the Sea (UNICPOLOS) meeting and serving on the US delegation; reviewing materials for the Sargasso Sea Commission; staffing NOAA principals at events; and acting as NOAA's point of contact in deciding whether any multilateral financial assistance project proposals conflict with our agency's equities. It's safe to say that I'm learning a lot in this fellowship!
What has been the most positive part of being a Fellow? How about the most challenging?
One of the best things about being a Fellow is the people you get to be surrounded by. Your colleagues, supervisors, mentors, and fellow fellows make for such an extraordinary support network. Everyone is so willing to give helpful tips and tricks of the trade and because everyone has such diverse and colorful professional and personal backgrounds, you get many opportunities to learn something new and/or see things in a different light. And, this fellowship in OIA has let me sit in on meetings I never thought I'd ever be invited to – on my second day of the fellowship, I got to sit in on a meeting with Cuban officials.
I think the most challenging aspect was the learning curve that comes with starting work at a federal agency - the lingo and abbreviations, the organization charts, the lists of points of contact. At the beginning of the fellowship, it definitely feels as if you're drinking out of a firehose. But comparing what I knew then to what I know now, it's amazing the amount of institutional knowledge I've been able to absorb in just a few months.
What's one thing you've learned during your time in Washington, D.C. that has surprised you?
There are so many free and interesting events happening every day in DC. From embassy-hosted events, to neighborhood block parties, clothing swaps, new museum exhibits, and documentary screenings, you can never get bored here!
What was the last thing you read? Fiona and Jane by Jean Chen Ho
Got any podcast recommendations? Girlboss Radio with Sophia Amoruso for female empowerment tips and tricks; and Stuff You Should Know if you're into learning random tidbits of information!
Who has been your inspiration?
As cheesy as it sounds, my parents have always been my source of inspiration. They immigrated here to provide a better life for me and my siblings, leaving behind their sense of community and familiarity for the American dream. They worked tirelessly to keep a roof over our heads, put food on the table, and raise us with Chinese cultural teachings and traditions in a Western society. They never forgot where they came from and yet they kept moving forward, keeping family at the heart of everything they do. My parents, their perseverance and determination have and will always be my inspiration through life.
What's the most interesting place you've ever visited and why?
I'm tempted to say Idalia National Park, which is in Australia's Outback, because the arid conditions are just so different from what I'm used to back home in the Boston metro area. The kangaroos, wallabies, acacia trees, and the shooting stars at night were all so picturesque – that class camping trip during my semester abroad still feels like a dream.
But, the most interesting place I've visited during this fellowship was the UN Headquarters in New York City. The UN is something that you always hear about - in the news, in class, in conversation, and they make incredible international agreements, with important initiatives and conditions. So, it felt surreal standing in the building as part of the US delegation for the UNICPOLOS meeting, with all the UN member flags waving about and representatives running into closed door meetings. Walking into the building for the first time, I truly couldn't believe that this fellowship brought me here. It was definitely a pinch-me moment.
What is something that people would be surprised to learn about you?
I love to bake sweet treats for friends, family, and colleagues. Not only do I love the process that goes into making them (the dedication and focus it takes to follow each of the directions step-by-step helps me to de-stress), but I also love sharing baked goods with others and seeing how just a small treat can bring a smile to someone's face.
What are your plans post-fellowship?
Not sure yet, but I'm hoping to stay within the international environmental policy realm because I love the various levels of engagement and dynamics between stakeholders within organizations, between organizations, on the national, and the international level. The interwoven nature of science, policy, politics, funding, capacity building, and public perception makes this field extremely exciting to be a part of.
What would be your number one recommendation to a younger version of your self?
My number one recommendation to a younger version of myself is to fully embrace the phrase from Finding Nemo, "Just Keep Swimming!" I would tell myself to embrace failure with open arms because each failure gets you a step closer to success. Each mistake teaches you something to do or not to do, something about yourself and what you want or don't want, and/or something about how the world works and how you can change it. Growing up, I used to view failure in a negative light, and now I don't because I know my failures and consequently successes led me to where I am now, a Knauss Fellow in NOAA's Office of International Affairs.
Cats or Dogs?
Dogs! I adopted my German Shepherd/Collie puppy on Valentine's Day this year, and he's been the love of my life ever since. His name is Bear and he lives up to his name - he's a real menace. I will say though another recommendation to a younger version of myself would be to not get a puppy as my first dog…