New Sea Grant Educator on Board
Grace Simpkins joins Woods Hole Sea Grant Staff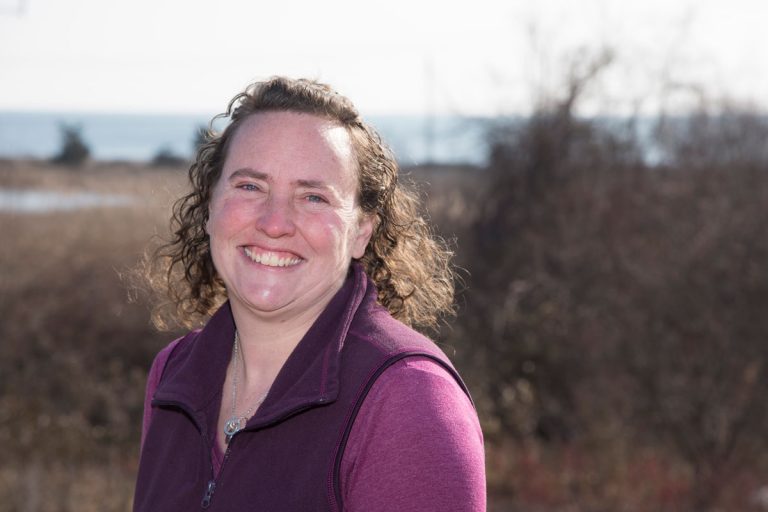 Jan. 26, 2018 -- The Woods Hole Sea Grant (WHSG) program is pleased to announce the appointment of Grace Simpkins to the part-time position of Sea Grant Educator. Simpkins, who has an M.S. in Marine Biology from the Univ. of Alaska Fairbanks, assumed her post on Jan. 16, 2018.
"Grace has a passion and a unique skill set for marine science education at the K-12 level," said WHSG Director Matt Charette, "and will therefore be a great resource for teachers and students alike in southeastern Massachusetts."
Simpkins has an extensive background working with young students. She serves as director of the Cross Age Science Teaching program in the Falmouth, Mass., public schools, a unique program where eighth grade students are trained in inquiry-based teaching and apply those skills in third grade classrooms. She also works for the National Oceanic and Atmospheric Administration, conducting outreach and education on protected species in Falmouth-area public schools. Through that work, Simpkins developed curriculum to educate grade school students about marine mammals, visiting classrooms and organizing outreach events.
As part of her new responsibilities, Simpkins will build on WHSG's popular "Topics in Oceanography" workshops for educators, a program that enables teachers to learn directly from ocean scientists and engineers about current research and gain training in using relevant classroom activities related to those topics. Simpkins also plans to design curricula that she can share with grade school students in the classroom and with students and classes that visit Woods Hole or the Barnstable County extension office to gets a hands-on look at Sea Grant research and outreach projects.
"Woods Hole Sea Grant has so much to offer both educators and students," said Simpkins. "I'm excited to broaden our reach and introduce more students to our exciting research and the dynamic environment that is our home!"
Based at Woods Hole Oceanographic Institution, the Woods Hole Sea Grant program supports research and education, and an extension program in concert with the Cape Cod Cooperative Extension, that encourage environmental stewardship, long-term economic development, and responsible use of the nation's coastal and ocean resources. It is part of the National Sea Grant College Program of the National Oceanic and Atmospheric Administration, a network of 33 individual programs located in each of the coastal and Great Lakes states.