Reporting from the Heart of the Storm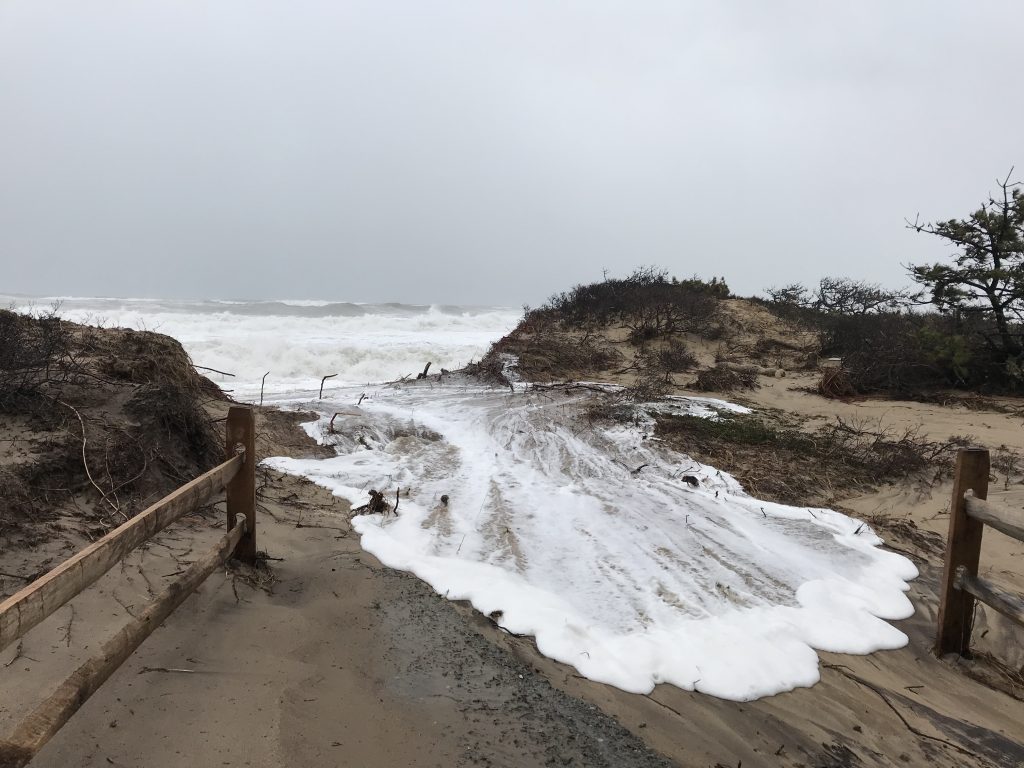 The winter storms of 2018 are experiences most of New Englanders would like to forget. However, the pounding the region took through the month of March left an indelible mark on many north and east facing towns and beaches, destroying homes, buildings, and other structures, and eroding swaths of shoreline.
This week the White House and the Federal Emergency Management Agency (FEMA) responded to Gov. Charlie Baker's request for federal disaster assistance for Massachusetts counties impacted by the severe storm on March 2-3. Six of the hardest hit counties will receive assistance: Barnstable, Bristol, Essex, Nantucket, Norfolk and Plymouth.
The Governor's request for assistance was backed up by data collected by dozens of experts in coastal towns across the state. While most people hunker down in Nor'easters and pray the power stays on, Greg Berman and Shannon Jarbeau, extension agents with Woods Hole Sea Grant and Barnstable County's Cape Cod Cooperative Extension, are often out in the thick of it, sometimes driving through white-out conditions to track the storm's local impact.
"We're a different breed," says Berman, a coastal processes specialist whose expertise is often tapped to inform town management plans and decisions. "We like to be out there. That's when extreme erosion and flooding are happening."
Berman and Jarbeau are part of the Massachusetts Rapid Response Coastal Storm Damage Assessment Team coordinated by the Massachusetts Office of Coastal Zone Management (CZM). The team comprises some 61 trained personnel from state and federal agencies and local governments who go out during and after moderate to major storms to conduct visual assessments of storms' impacts on the coast. Wearing ski goggles to protect their eyes from sand and pelting sleet, and big heavy boots for trekking in rough conditions, Berman and Jarbeau, like the other team members, take photographs and record notes, reporting back to the CZM in real time using the "Storm Reporter" tool in an app called "MyCoast."
CZM's Rebecca Haney coordinates the Storm Team and activates them based on forecasts from the National Weather Service. Berman and Jarbeau, she says, are "incredibly helpful" and essential to coverage on the Cape.
"Our Storm Team collects damage level information in coastal communities across the Commonwealth," Haney says. "They're reporting on road conditions, whether they're passable or flooded or blocked due to fallen trees. They're photographing damage where they find it – whether it's boats and floats in marinas and harbors, or stairs, decks, porches of houses or worse – damage to windows, walls, and foundations. They look at coastal structures -– revetments, sea walls, beach and dune barriers -- and upload their reports to our system."
Because Berman and Jarbeau are responsible for reporting on several Cape towns, it means a lot of driving. "It can be nerve wracking and we're pretty exhausted by the end of day," says Jarbeau, a floodplain coordinator, but the information they collect is critical to decision makers in the Massachusetts Emergency Management Agency's State Emergency Operations Center. MEMA sends the Storm Team data about how severe and widespread the damage is to the Governor and others, along with data provided by other state and local officials so that rapid decisions can be made about where to apply the state's resources, as well as potentially for a federal disaster assistance request. Additionally, the reports are shared with the National Weather Service in Taunton to help calibrate and refine its models to improve its prediction capabilities for future storms.
In March 2018, New England experienced four nor'easters. The first one, March 2-3, did the most damage. The wind and waves from that storm damaged many shorefront homes, causing a complete loss in a handful of cases on Cape Cod.  This includes the iconic Liam's
Clam Shack at Orleans Nauset Beach, a historic home at Ballston Beach in Truro, and several homes on barrier beaches in Sandwich. The highest winds gusts in the state were reported by three Cape towns: Barnstable (93 mph), East Falmouth (92 mph), Wellfleet (91 mph). Flood waters were very slow to recede between high-tide cycles, and there was wide-spread erosion. Town Neck in Sandwich lost nearly 40 feet of a dune protecting its parking lot, while Nauset Beach in Orleans, saw 60 feet of erosion.
The storm surge from the March 2 storm had not entirely subsided by the time the next nor'easter arrived on March 8, which was followed by another storm on March 13 and another on March 22. Gov. Baker's request for disaster assistance following the March 13 storm is still pending.
Nor'easters like the ones experienced this winter test the durability of shoreline stabilization projects and help inform future projects. Being part of the Storm Team allows Berman and Jarbeau to see which projects hold up or fail under tough conditions, adding to their expertise and contributing to their value as resources for municipalities and others.
The 2018 storms may be remembered a few years from now as part of a particularly "bad" winter or, with extreme weather events increasing under new climate regimes, perhaps they will be seen as the "new normal." In either case, Berman and Jarbeau will continue their valuable work with Woods Hole Sea Grant and the Cape Cod Cooperative Extension to improve shoreline resilience.