Letter From The Director
Business Continuity Planning Program Scheduled
National Flood Insurance Program Updates
Community Rating System Updates
Upcoming Floodplain Management Training
Funded Researchers Working on Real-Time 'Shark Forecast'
Working Toward Shellfish More Robust to Disease Pressures
Girls in Science Now Accepting Applications for 2022 Sessions
Dune Sign Student Art Contest Underway
Massachusetts Marine Educators Association Meeting Planned for April
2022 Knauss Fellows Begin Their Journeys
2023 Knauss Fellowship Application Period Remains Open
SUBSCRIBE
ISSUE ARCHIVE
» Read past issues of Coastal Impacts
CURRENT ISSUE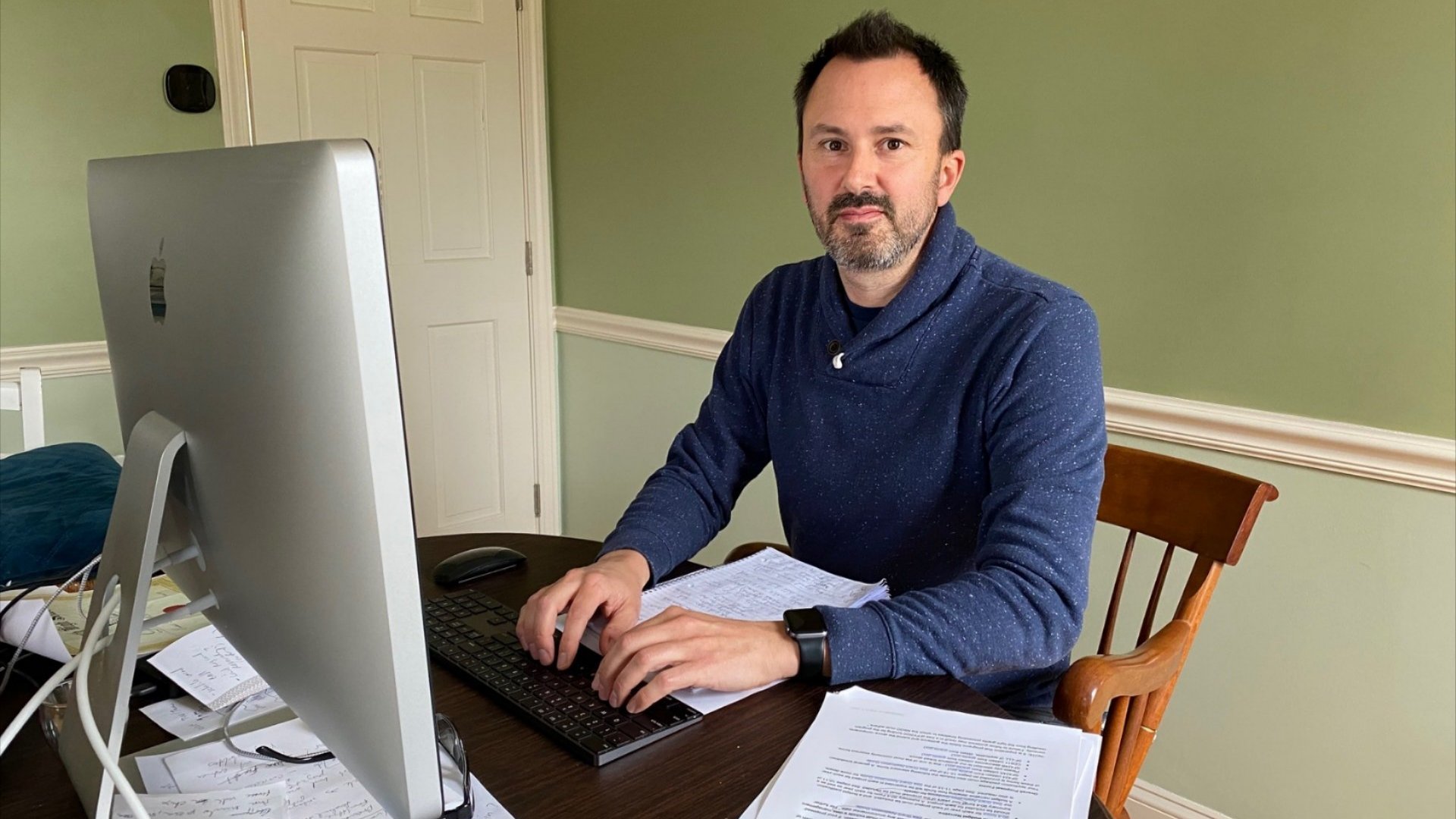 On New Year's Eve, on the advice of Woods Hole Sea Grant's most ardent bird enthusiast Abigail Archer, I took a drive out to
West Dennis Beach
to catch a glimpse of a
snowy owl
pair that had recently set up shop for the winter on the dune of this barrier beach.
It was an amazing experience to see up close such an exotic bird compared to the chickadees and finches that frequent our backyard feeder. In this case, the great viewing angles were made possible by a parking lot that has (for now) remained in place while the dune advances shoreward (please stay off the dune to protect the grass and keep from agitating the birds!)
According to the
Audubon Field Guide
, barrier beaches are a favorite habitat of the snowy owls that occasionally migrate to our region in the winter months. Like the snowy owl, barrier beaches are also migratory by their nature – wind and waves act in concert to move them inland during periods of rising sea level.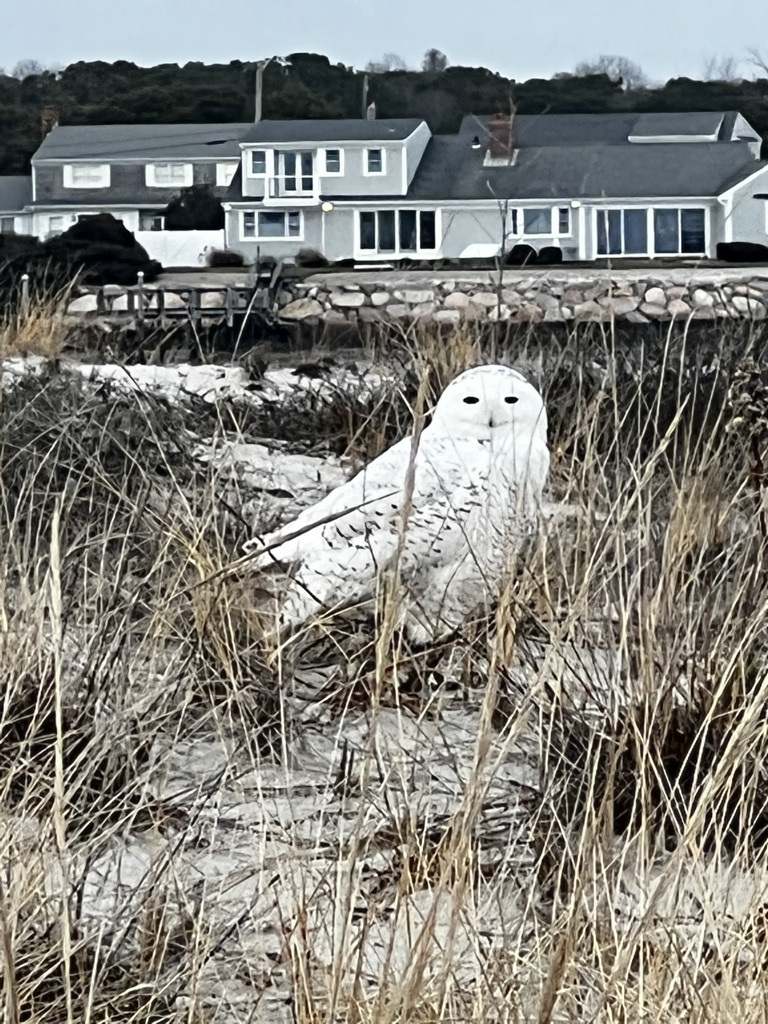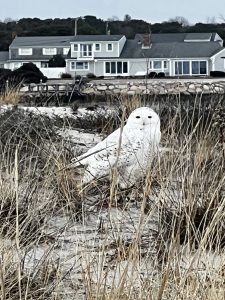 Should the dune at West Dennis become too narrow for nesting, the owls will need to find another place to set up shop for the winter. However, relocation is not quite as simple for many fixed structures like beach parking lots and ocean front houses in our region. Take for example the house at
Ballston Beach in Truro
, which was nearly taken by the advancing ocean after a series of intense winter storm-driven dune erosion events. Though this is just one house, it's a stark reminder that if we can't begin to make some tough decisions on coastal retreat sooner than later, that rising seas and more intense storms will make them for us.
Business Continuity Planning Program Scheduled
In recent years, local businesses on Cape Cod have faced unprecedented economic challenges.  In addition to adapting to the pandemic, there are many diverse impediments to overcome for a small business improve its resilient to storms.
The business continuity planning (BCP) process is designed to help small businesses prepare for, plan for, mitigate, respond to, and recover from any natural hazard or disaster that may occur.
A BCP program sponsored by Woods Hole Sea Grant and Barnstable County's Cape Cod Cooperative Extension aims to help Cape Cod small businesses develop plans to respond to and recover from disasters and build resilience in advance of an emergency.
This effort builds on the
2021 economic resiliency effort by the Cape Cod Commission
that provided a multi-part workshop series designed to help Cape Cod business owners navigate COVID-19 recovery and resiliency strategies.  The current effort is to pilot the BCP template with expanded emphasis on recovery from storm impacts.
This month businesses can apply to become one of the twenty selected to participate in the program, which provides 1-on-1 technical support to build a business resiliency plan.  Businesses selected to participate will receive assistance assessing their vulnerability to various disasters, a business resiliency plan, as well as a $100 gift card.
 Please consider participating as you'll be helping us refine the toolkit to help other small businesses while enhancing your own experience and confidence in anticipating, preparing for, and recovering from a natural disaster.
More information, as well as the online application, is on our
website. 
Please consider spreading the word!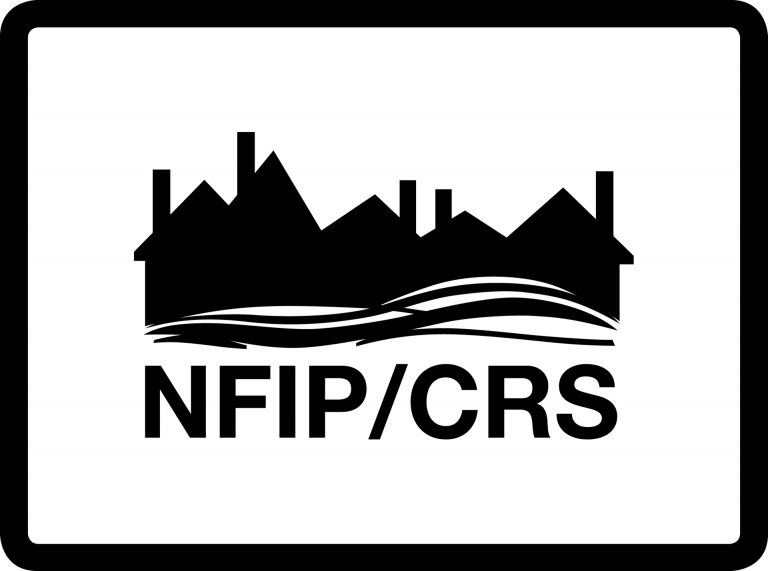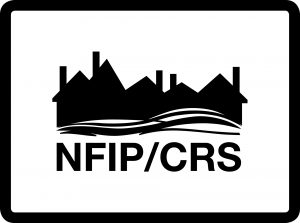 National Flood Insurance Program Updates
Beginning in April 2022, when anyone with a flood insurance policy through the

National Flood Insurance Program

renews, they will be rated under a new system called Risk Rating 2.0.

This is the first time since the program's inception that the program has changed the way it assesses policyholders' risk. The intention is to bring the system more in line with the approach of the private markets, and to create a more fair rating system.

Broadly, the new rating system will factor in distance to source of flooding, replacement cost of the house, and the type and elevation of the house. This will make it so that those lower-value structures that are further back from the water, wetland, river, etc. will pay lower rates than high-value structures located on the waterfront.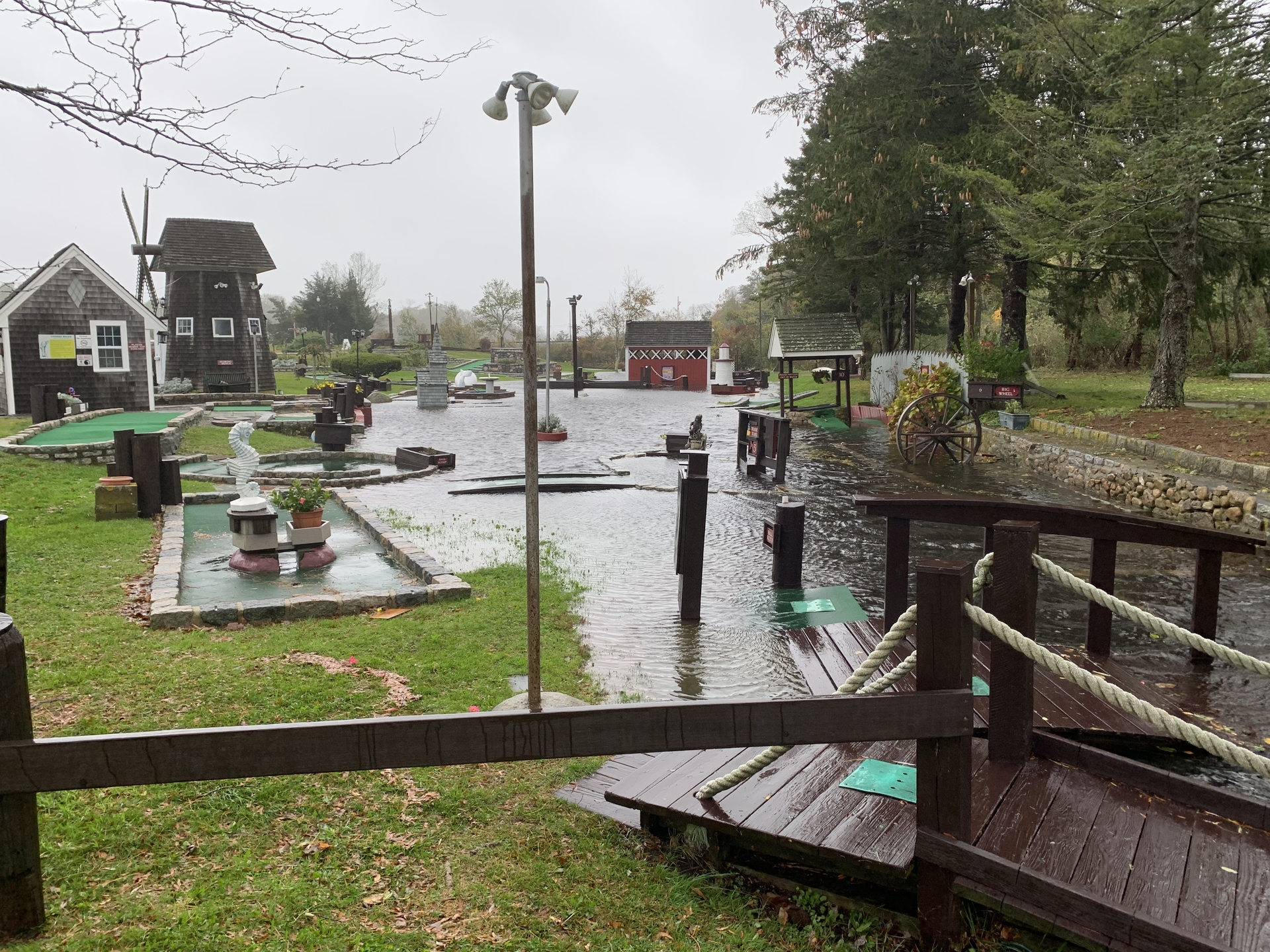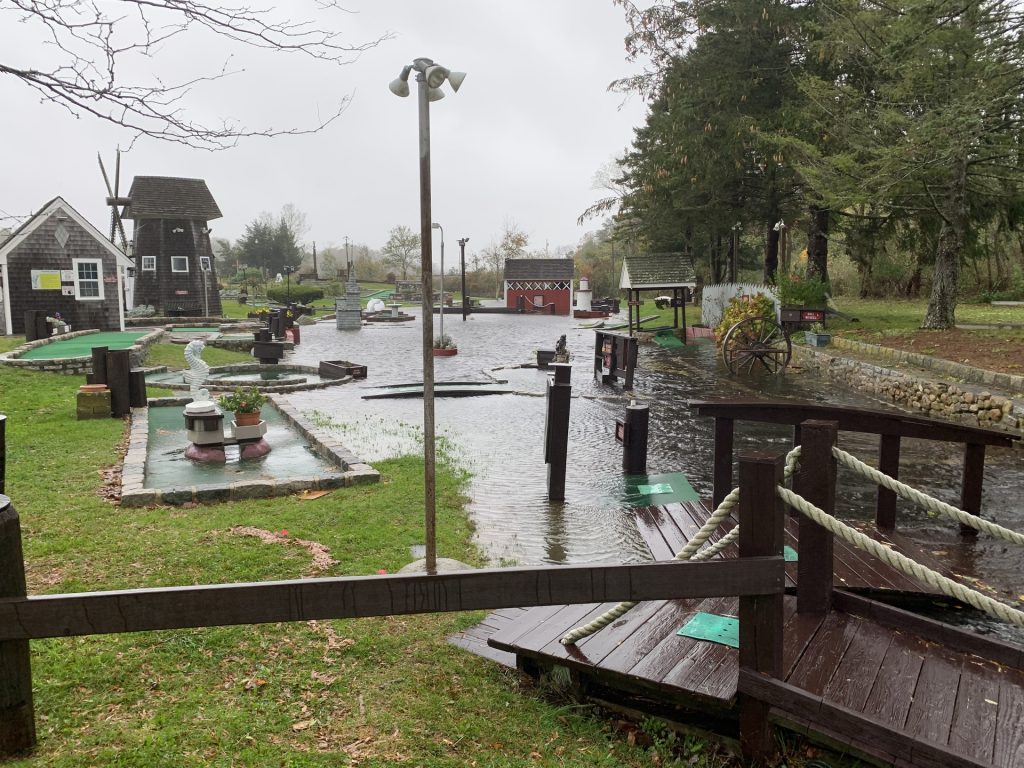 Community Rating System Updates
As we reported in our last newsletter, Chatham and Wellfleet successfully concluded their five-year
Community Rating System (CRS)
audits in 2021 to remain in the program.
We have since learned that, pending final approval from FEMA, both towns advanced in the program from a 10 percent discount to a 15 percent discount.
This means that, starting in October 2022, every National Flood Insurance Program policyholder will get a 15 percent discount on their premiums thanks to the efforts of town staff with support from Woods Hole Sea Grant/Cape Cod Cooperative Extension.
Upcoming Floodplain Management Training
Calling all professionals interested in learning more about floodplain management!
FUNDED RESEARCHERS WORKING ON REAL-TIME 'SHARK FORECAST'
The concept is based on acoustic telemetry data from tagged sharks and satellite-derived sea surface temperature (SST) and water turbidity data. Available tagging data suggest that temperature is a factor in the distribution of sharks, and that variations in ambient light levels due to cloud cover and water turbidity are linked to when and how the sharks hunt. The scientists plan to test the concept by retroactively forecasting the probability of white shark presence in previous years and validate it using available tagging data.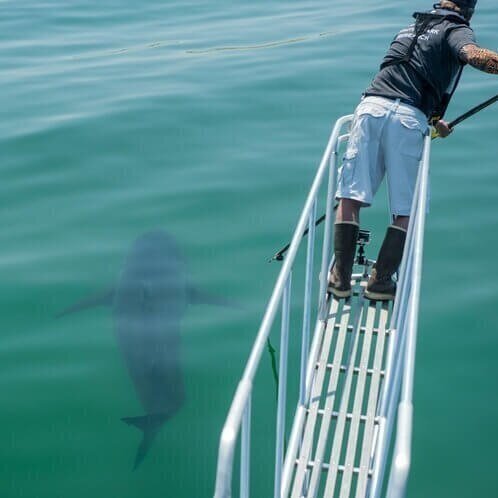 FISHERIES AND AQUACULTURE
Working Toward Shellfish More Robust to Disease Pressures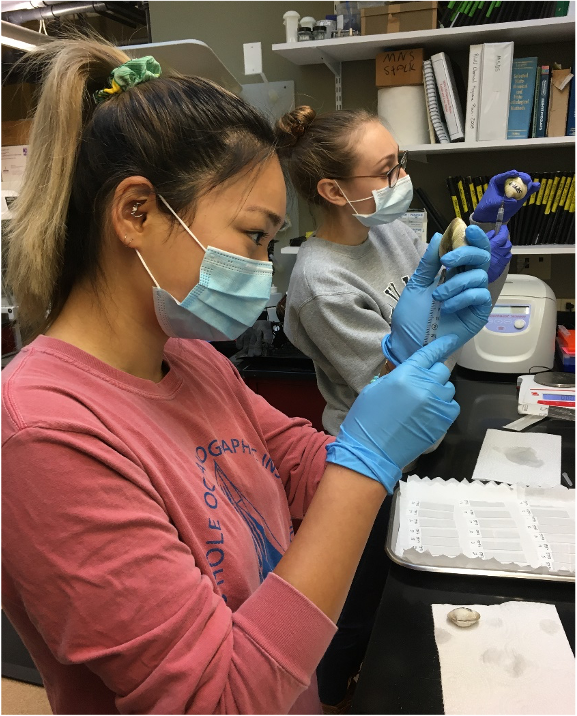 One of the marvels of shellfish farming is not needing to feed your crop as they take advantage of the food naturally produced in the ecosystem they are a part of. One of the challenges is that same water can contain critters that can infect your crop and cause significant shellfish health issues and mortality. These "veterinary" diseases of shellfish are one of the biggest causes of loss in shellfish farming, but fortunately do not pose any risk to us shellfish consumers.
While a new disease is always a challenge there is hope! Many shellfish survive this disease and it appears some level of resistance or tolerance is possible. WHSG staff will continue to collaborate with researchers on a recently funded project this summer to evaluate strains with potential resistance to diseases like hemic neoplasia to improve survival and farm viability.
GIRLS IN SCIENCE NOW ACCEPTING APPLICATIONS FOR 2022 SESSIONS
Woods Hole Sea Grant (WHSG) and the
 Woods Hole Oceanographic Institution
(WHOI) are excited to once again collaborate with 
Earthwatch Institute
 on the Girls in Science Fellowship, a competitive, week-long, fully-funded, residential fellowship in 
Woods Hole
 for 20 young women from Massachusetts currently in their sophomore or junior year of high school.
Fellows are housed on the beautiful 
Sea Education Association
 campus during this week-long, summer fellowship, with easy access to the nearby WHOI facilities.  During their week, fellows work with
 WHOI Research Specialist Laela Sayigh
,
WHSG Education Specialist Grace Simpkins
, Earthwatch Facilitators, and others to investigate marine mammal bioacoustics (sounds) while also meeting other female Science, Technology, Engineering, Arts, and Mathematics (STEAM) professionals and learning from their collective expertise.
The immersive experience includes building and testing their own underwater microphone (or hydrophone), analyzing data of dolphin vocalizations from the resident population in Sarasota, Florida to aid in conservation efforts, and capturing the underwater sounds of whales and dolphins vocalizing during a whale watch expedition.  Earthwatch facilitators help the student fellows integrate arts and science to tell their "Story of Science."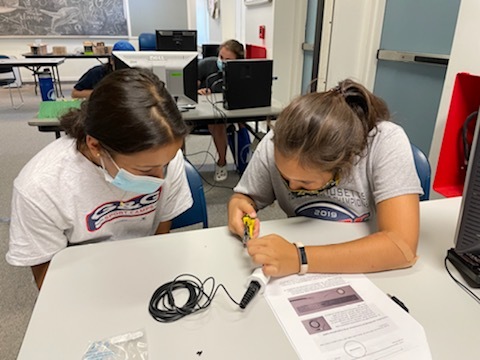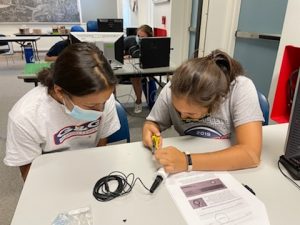 Who is eligible?
Young women who are currently sophomores or juniors in a Massachusetts high school
When will it be held?
Two identical, week-long sessions will be offered in 2022: August 7-13 and August 14-20.
Fully-Funded Opportunity
There is no-cost to the fellow for this program. All expenses are paid.
Diversity Statement
We are committed to assembling diverse groups of fellows. This fellowship encourages applicants from groups historically underrepresented in the ocean sciences – especially with respect to gender identity/expression, race, ethnicity, and socioeconomic status.
Information Session
Join us on Zoom on Tuesday, February 15, 2022 at 6 p.m. for an information session. Please register for the information session 
here
.
How to Apply
DUNE SIGN STUDENT ART CONTEST UNDERWAY
Woods Hole Sea Grant invites Massachusetts students in grades K-12 to participate in our Dune Sign Student Art Contest.
We will use the artwork from the first place winners in grade divisions K-4, 5-8, and 9-12 on our signs at local Cape and Southeastern Massachusetts beaches to educate visitors about coastal dunes, their fragility, and need for protection from foot traffic. First, second, and third place winners in each category will also receive Amazon gift cards.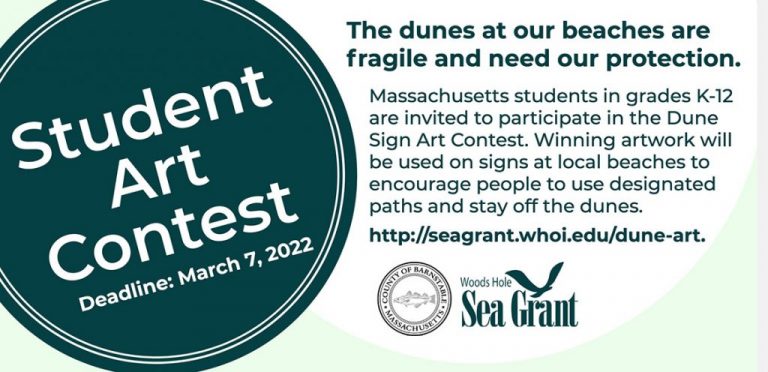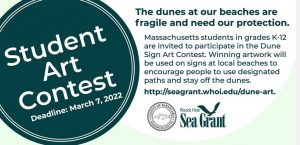 Contest rules and details as well as background information to learn more about the importance of coastal dunes can be found on our website.
We encourage teachers to use the background material as well as sample classroom lessons on dunes and dune grass to educate their students while encouraging them to turn their knowledge into art. The contest ends March 7th.
Contact: Grace Simpkins, gsimpkins@whoi.edu
MASSACHUSETTS MARINE EDUCATORS ASSOCIATION MEETING PLANNED FOR APRIL 30
The next Massachusetts Marine Educators Association Annual Conference will be on April 30th at the Woods Hole Oceanographic Institution. 
The focus is ocean and coastal data. Visit the MME website for more details as they come out.
2022 KNAUSS FELLOWS BEGIN THEIR JOURNEYS
Woods Hole Sea Grant is excited to be the sponsor program for three 2022 John A. Knauss Marine Policy Fellows from Massachusetts who started on Feb. 1. They are among 68 fellows placed in federal government offices in Washington, D.C.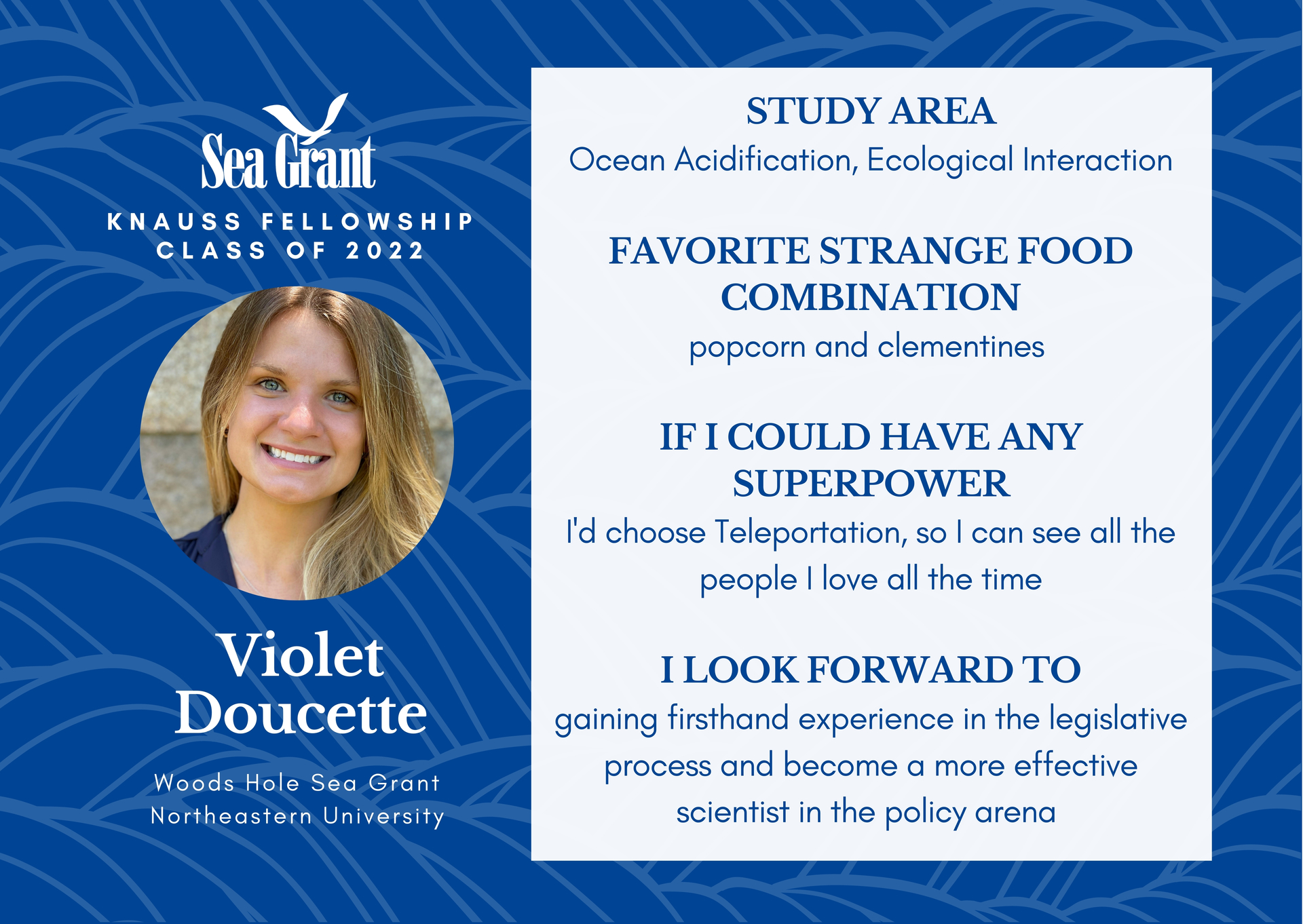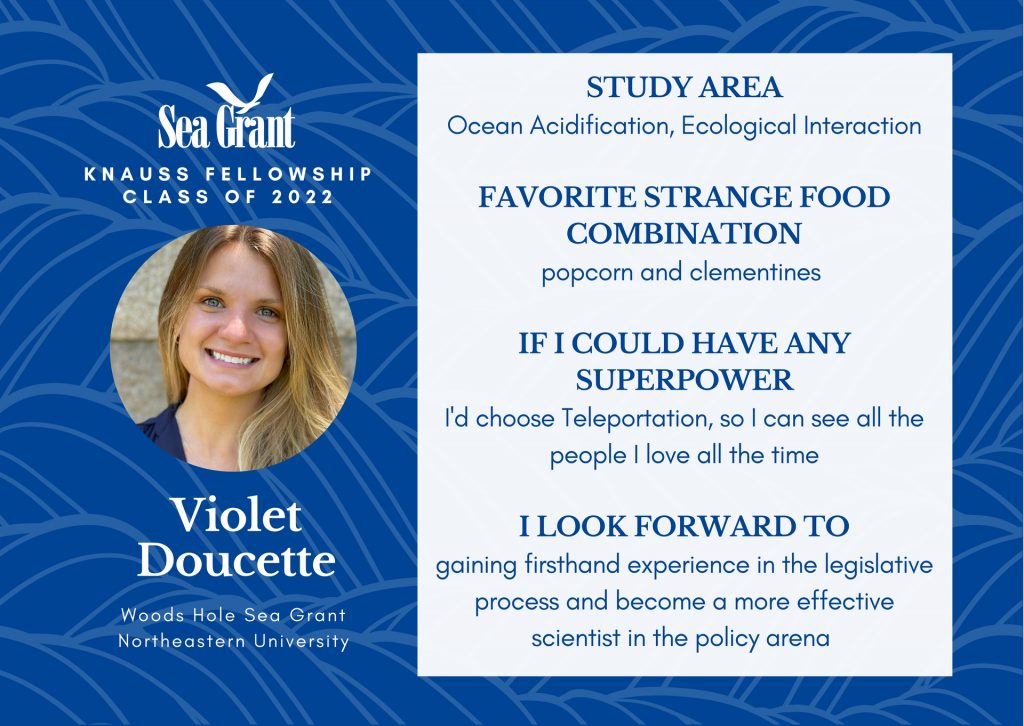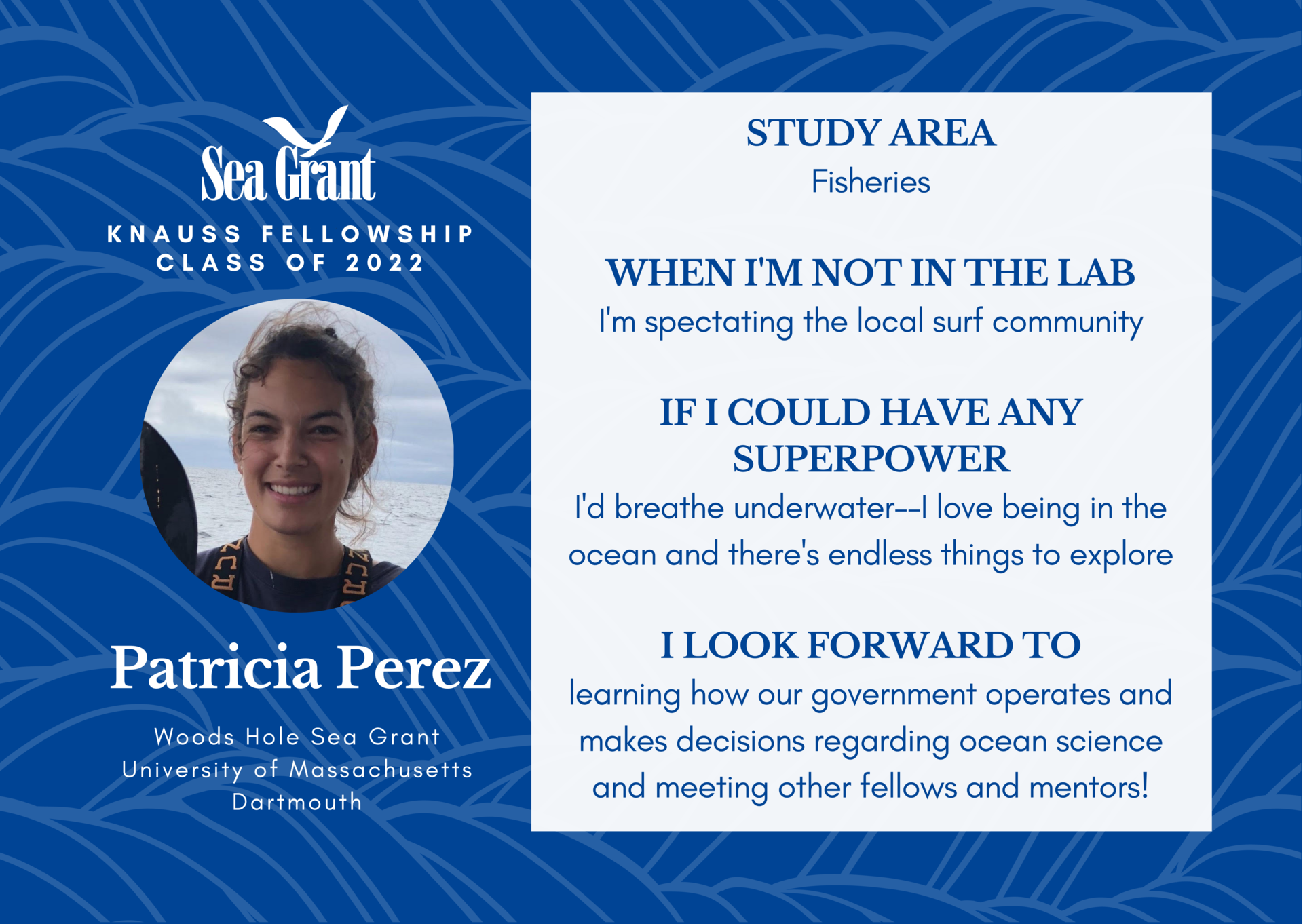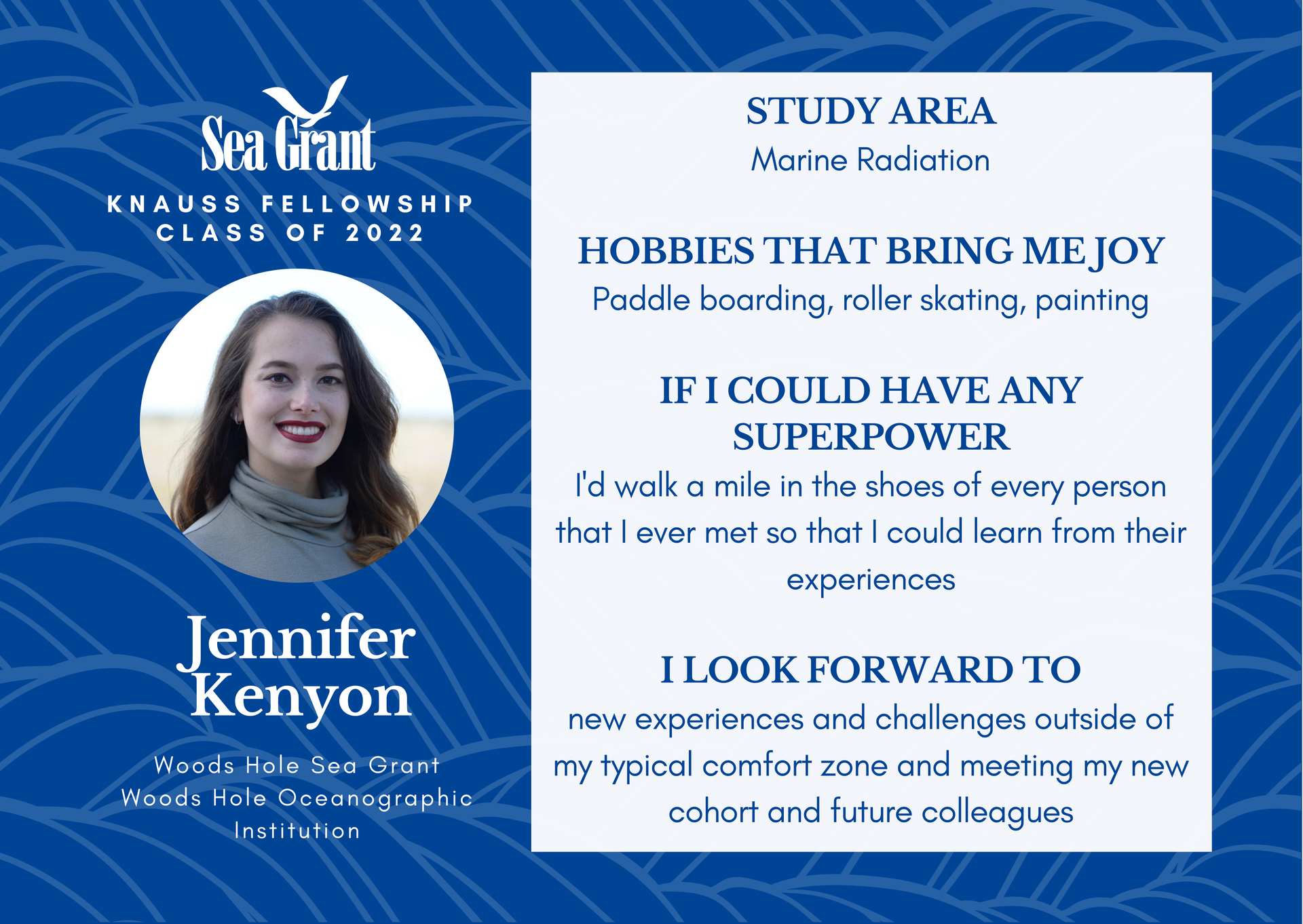 2023 Knauss Fellowship Application Period Remains Open
The fellowship provides a one-year, paid experience for highly-qualified graduate students/early career professionals to work on issues related to coastal, marine, and Great Lakes science and policy in offices within the executive or legislative branch of government in Washington, D.C.
Donate to Woods Hole Sea Grant
Click the donation link on the Woods Hole Sea Grant website and directly support the important coastal research, extension, and education at Woods Hole Sea Grant. We thank you in advance!