Recreational Shellfishing Survey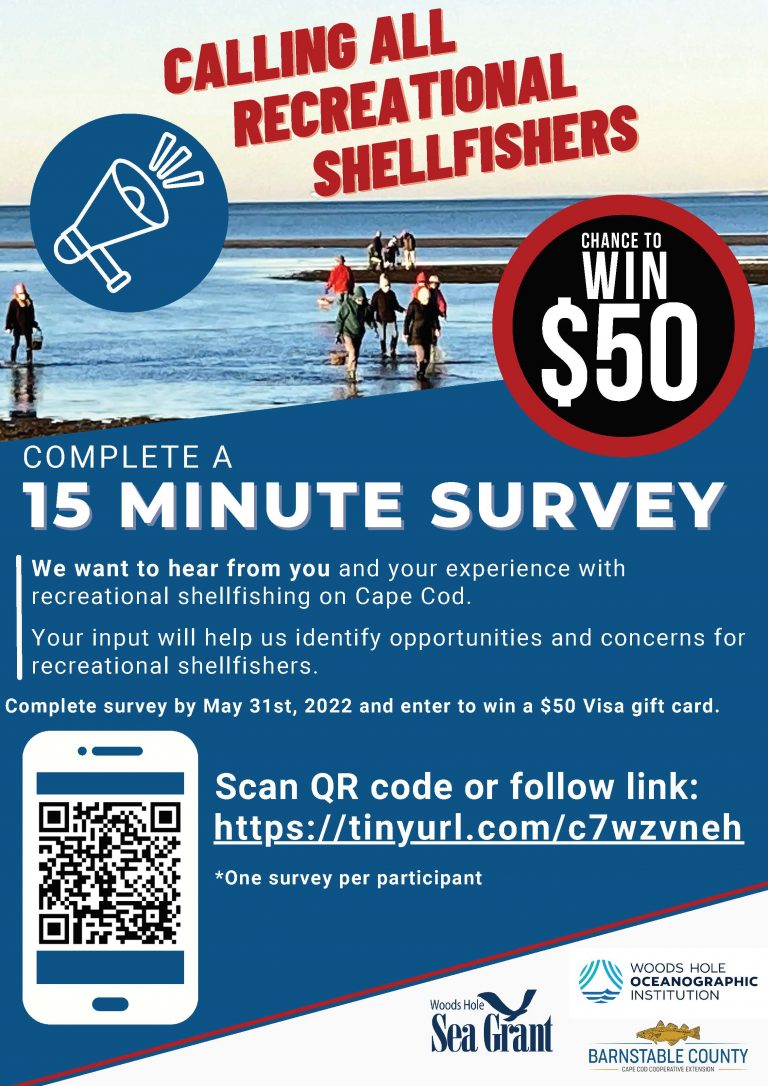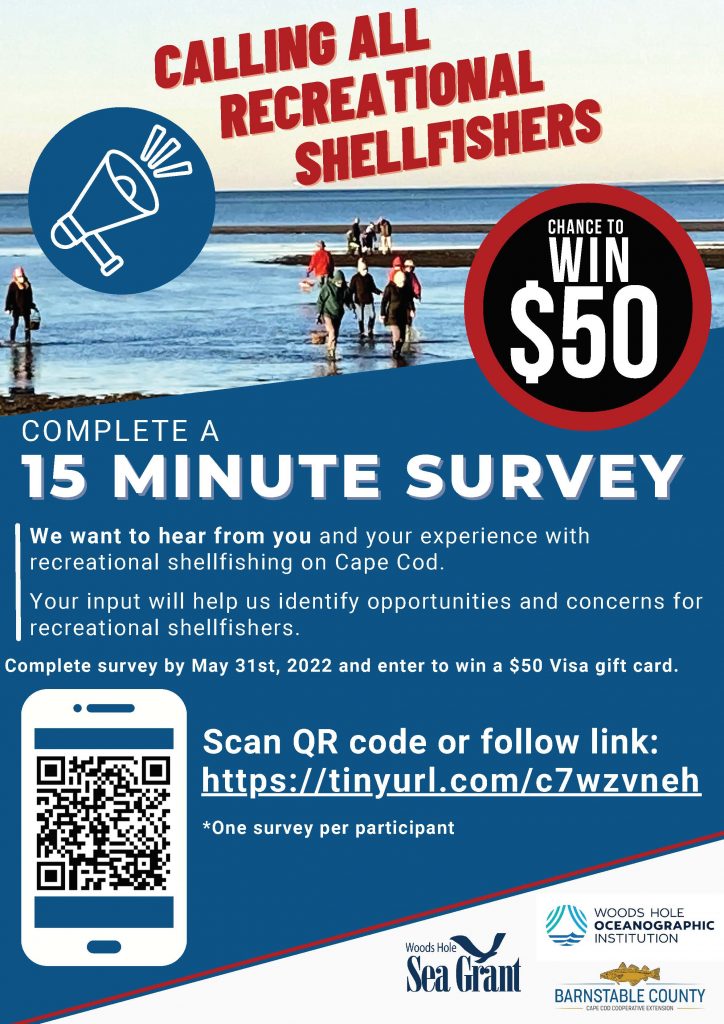 Did you participate in the recreational shellfish fishery in one of the 15 towns of Cape Cod in 2019 and 2020? If yes, we need your help!
Please take this survey to help us identify opportunities and concerns for recreational shellfishers.

Background
The Barnstable County Cape Cod Cooperative Extension Marine Program and Woods Hole Sea Grant Extension Program are working with the WHOI Marine Policy Center on a study about the current economic value of the municipal recreational shellfisheries in the 15 towns of Barnstable County.
The goals of this study are:
To use current economic valuation methods to determine the dollar value of the recreational shellfishing programs of Barnstable County
To include a broader definition of value than previous studies looked at – including recreational shellfishing as a tourism activity, a cultural practice to people who live in the region, a subsistence fishery, and a provider of ecosystem services such as water quality regulation
Similar studies were conducted in 1978 and in 2004:
Smith, Richard W., Jon M. Conrad and David A. Storey, An Economic Valuation of Recreational Clamming in Massachusetts, Massachusetts Agricultural Experiment Station Research Bulletin  No. 654, April, 1978.
To our knowledge this is the first study undertaken on the economic value of the recreational shellfisheries in Massachusetts.
2.   Damery, David T. and Allen, P. Geoffrey, An Economic Valuation of Recreational Shellfishing On Cape Cod. March 2004.
This study was commissioned in 2003 by William Burt of Cape Cod Cooperative Extension and published in 2004. David Damery and Geoffrey Allen with the Department of Resource Economics at UMass-Amherst undertook a
willingness to pay study.
They concluded that the estimated total value for recreational shellfishing on Cape Cod was $7.4 million in 2002, based on results of a survey of 233 shellfish permit holders. The information in the past studies was useful to towns and their shellfish departments and to state agencies and elected officials.
The new report will contain updated information that will be useful in developing town and state annual budgets, and for helping town volunteers and newly elected officials gain understanding about the role of recreational shellfisheries in the region.