Microplastics in the Marine Environment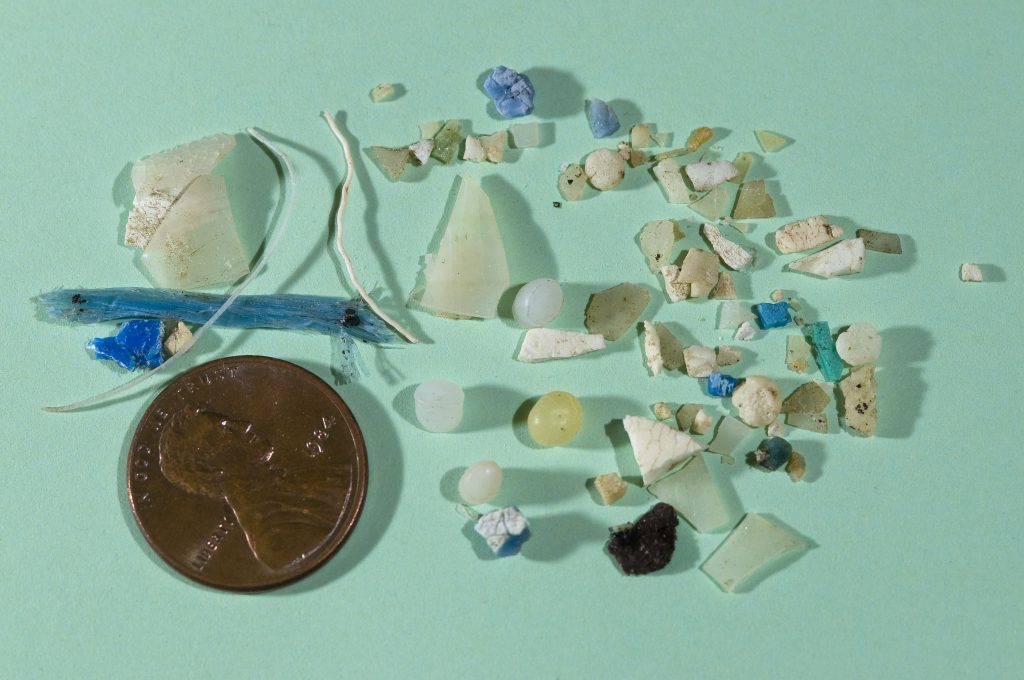 In 2020, recognizing the growing problem of marine debris in the environment, Woods Hole Sea Grant funded two new research projects that aim to better understand the sources, transport and uptake of microplastics by certain wild and cultured sea food.
"Microplastics have many sources, shapes and sizes in the marine environment yet we know very little about their abundance and fate in the coastal ocean," says Charette. "Further, we know even less about their potential impact on marine biota, including commercially important finfish and shellfish. These newly funded projects will provide an important foundation for microplastics research to come."
The projects are:
» Microplastics in Coastal Marine Animals: Defining the problem
A team of biologists at Woods Hole Oceanographic Institution will address the need for fundamental knowledge about the potential threat posed by microplastics and nanoplastics to commercially and ecologically important groups of shellfish and finfish around Cape Cod. Very little is known about microplastic concentrations accumulated by organisms and nothing is known about concentrations of nanoplastics in seafood.
To address this gap, the researchers, led by MIT-WHOI Joint Program grad student Jordan Pitt and scientists Mark Hahn and Neel Aluru, will use state-of-the-art equipment to determine if micro- and nanoplastics (1000x smaller than a microparticle) are found in the tissues of quahogs, oysters, blue mussels, soft-shell clams, mummichogs (Atlantic killifish), and black sea bass. In addition, they will determine the fate of different sized particles after consumption – specifically whether consumed particles can travel from the animal's gut into other tissues.
» Assessing the Seasonal and Storm-Impacted Transport and Biological Fate of Micro- and Nanoplastics Discharged from Wastewater Treatment Facilities into Massachusetts Coastal Waters
A project led by Woods Hole Oceanographic Institution biologist Scott Gallager and physical oceanographer Jim Churchill examines microplastic pollution from anthropogenic sources, focusing on waste water treatment facilities (WWTF) as most likely the dominant sources of microplastics in coastal waters. Because the scale of microplastic pollution from the WWTFs and their distributions after entering the coastal waters has not been studied, the scientists will use field surveys and modeling to provide the first order information.
Conducting field measurements seasonally, as well as using instruments installed on a ferry from New Bedford to Cuttyhunk, the researchers will measure microplastics from four wastewater treatment plants with a range of volume and different treatment types. They will then model the microplastic plume with a numerical model, which will provide an assessment of where and when to expect elevated uptake of microplastics by commercially important shellfish. To test the model, the study includes placement of mussels at the modeled predicted hotspots around Buzzards Bay, which will be periodically sampled to measure the microplastic content of their guts.
Research
» Microplastics in Coastal Marine Animals: Defining the problem
NOAA - Woods Hole Sea Grant biennial call for proposals, Feb. 2020
» Assessing the Seasonal and Storm-Impacted Transport and Biological Fate of Micro- and Nanoplastics Discharged from Wastewater Treatment Facilities into Massachusetts Coastal Waters
NOAA - Woods Hole Sea Grant biennial call for proposals, Feb. 2020
Related links