WHSG Shrink Wrap Program Honored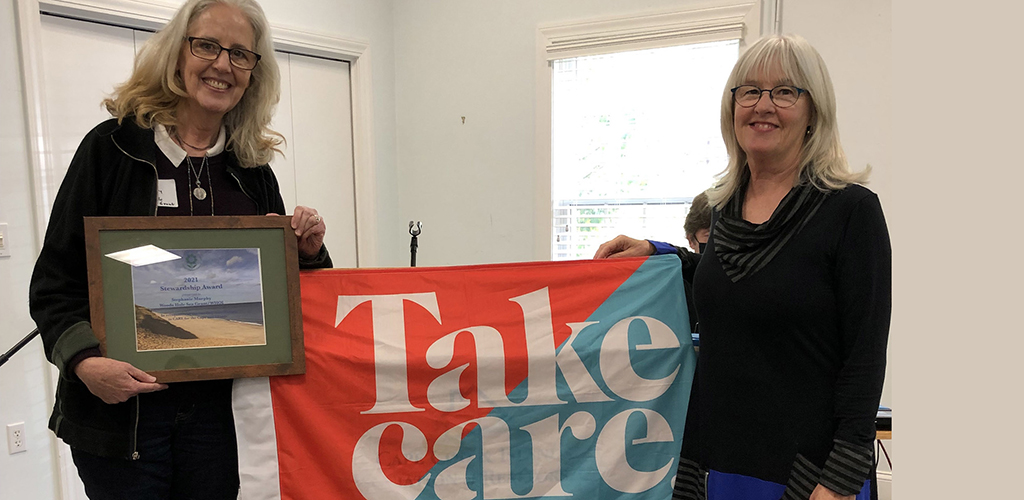 CARE for the Cape & Islands presented their annual stewardship awards during the CARE About a Clean Cape & Islands Summit held November 4 and Woods Hole Sea Grant was one of the recipients for our boat shrink wrap collection program.
The CARE Business/Organization Stewardship Award was presented to Stephanie Murphy, Woods Hole Sea Grant Sr. Communications Specialist. The award recognizes an organization's commitment to protecting the natural beauty of Cape Cod and the Islands and who have adopted day-to-day practices that fit CARE's mission to preserve and enhance its natural environment, culture, or history.
Stephanie was recognized for spearheading a program that resulted in a significant reduction of plastic in the waste stream due to a successful boat shrink-wrap program. Working in collaboration with a number of municipalities, an estimated 15-20,000 pounds/7.5-10 tons of shrink wrap were collected in the 12-week period and diverted from the waste stream.
Director Jill Talladay said, "We believe that it's important to recognize and encourage those individuals and organizations that are doing amazing things to take care of this special place. Our stewardship awards are presented to those who go above and beyond, on a regular basis."