Video Lecture Discusses Whale Detection System Helping Prevent Ship Strikes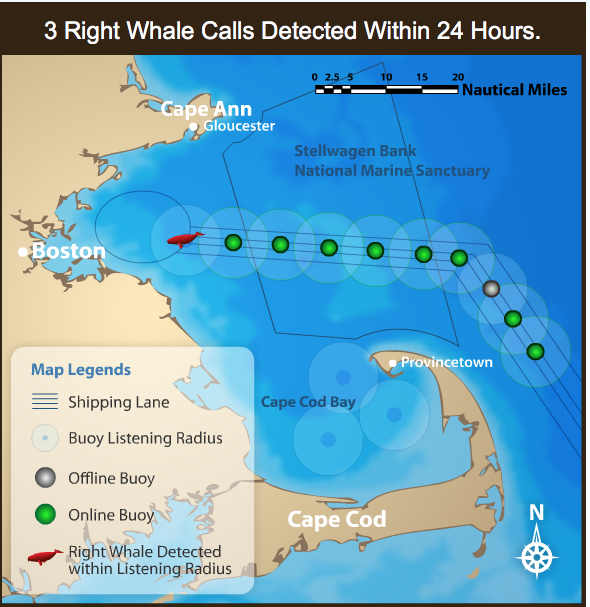 We're adding some past videos to new technology and this is a good one!
John Kemp, who led a team of engineers in developing and deploying a buoy system off Cape Cod aimed at decreasing the risk to Northern Atlantic right whales from ship strikes, kicked off the 2008 Woods Hole Sea Grant "Oceans Alive" series with a lecture about the system. The lecture is entitled "Right Whale Auto Detection Mooring Network in Cape Cod and Mass Bay."
Kemp, a senior engineering assistant with the Mooring Operations Group at Woods Hole Oceanographic Institution, discussed the passive acoustic mooring-based detection system located along the shipping lanes heading into Boston.
Currently comprised of 10 buoys along the 55-mile Traffic Separation Scheme, each monitoring device can pick up the noise of marine mammals from five miles away, giving a wide coverage area.
The system then sends the detection of those sounds to the NOAA Right Whale Sighting Advisory System and the information, along with aerial sighting surveys, is posted. Ships in the area, in turn, are notified and required to slow their speed slightly for 24 hours and post a lookout.
Only about 350-400 right whales remain, researchers say, and all are found on the East Coast of North America. They are between 40-70 feet in length and weigh up to 70 tons. Once boasting life expectancies of 50-70 years, calves born today can expect to live just 15 years because of ship strikes and entanglements, according to the Right Whale Listening Network, of which WHOI is a member.