Free Recycling Program for Boat Shrink Wrap to Begin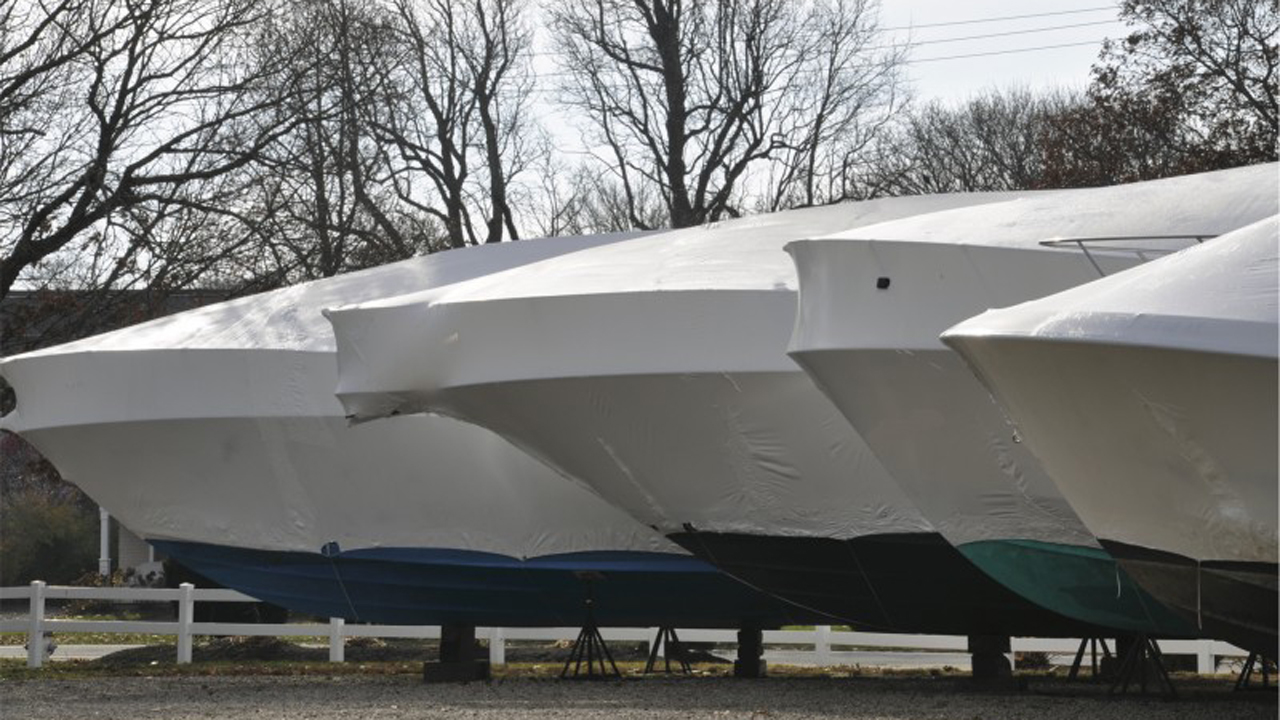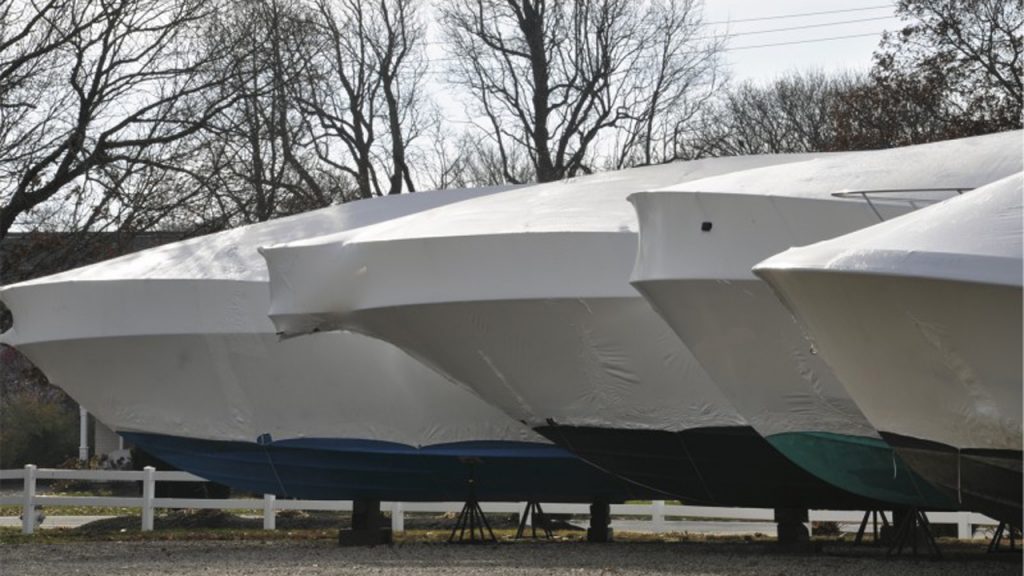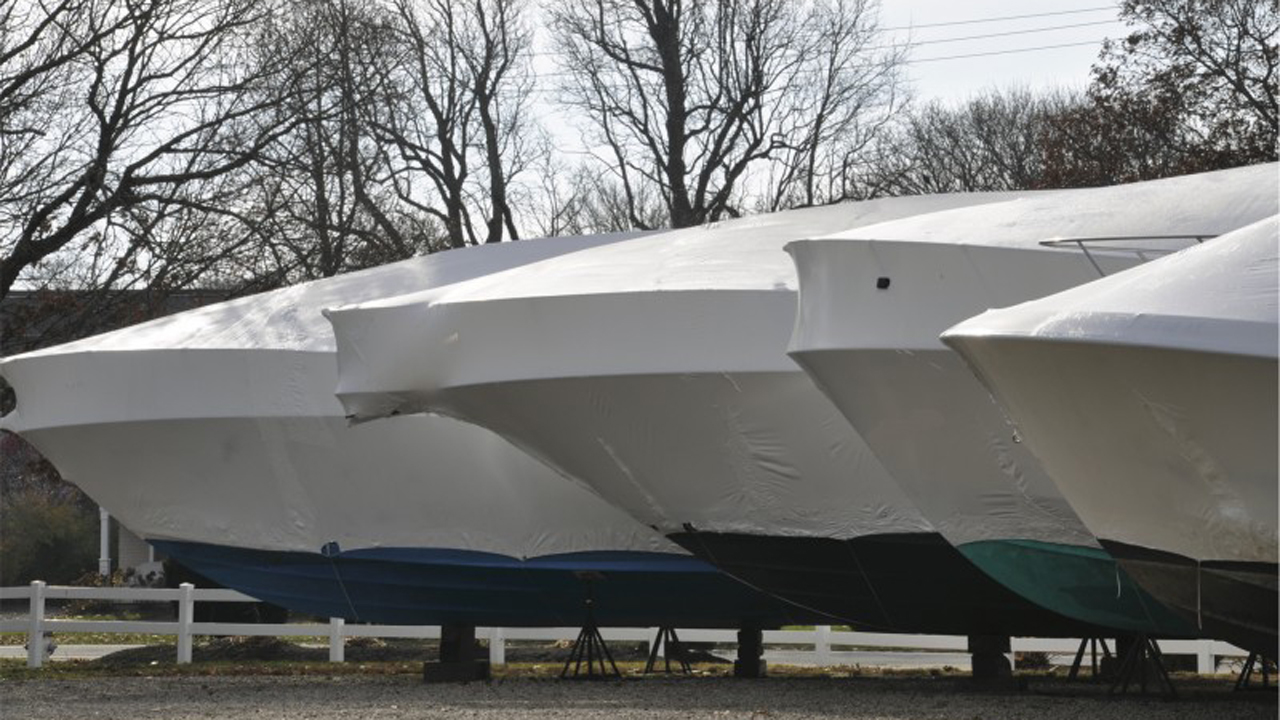 March 10, 2021 – Boats on trailers wrapped in plastic is a common sight on Cape Cod in the off-season. But what happens to all that shrink wrapped plastic when it comes off the boats in the spring? Too often it ends up in the landfill.
To reduce the amount of plastic waste entering our environment, the Woods Hole Sea Grant program, in collaboration with the Cape Cod Cooperative Extension, is conducting a free shrink wrap recycling program across Cape Cod from April 16 through June 30, 2021.
"The best way to help keep plastic out of the marine environment is to choose reusable boat covers or reuse your shrink wrap for two to three years," said Sea Grant Director Matt Charette, a senior scientist at Woods Hole Oceanographic Institution. "After that, recycling shrink wrap is the responsible thing to do. By recycling, it can be re-used in a variety of products, like decking material and outdoor furniture -- a real win-win proposition."
This year's program features six drop off locations across the Cape. The towns of Bourne, Chatham, Dennis, Eastham and Wellfleet are hosting recycling containers at their transfer stations, where boaters can bring their clean, bundled shrink wrap. Residents of Falmouth may also recycle their shrink wrap at MacDougall's boatyard on specified dates and hours.
The program requires recyclers to ensure the boat shrink wrap is clean and free of ropes, vents, strapping and any other non-shrink wrap material. Instructions on how to prepare shrink wrap for recycling can be found on the Woods Hole Sea Grant web site (http://seagrant.whoi.edu).
Collection Locations
Bourne ISWM
Mon.-Fri., 7am-3pm;  Sat., 7am-12pm
201 MacArthur Blvd.
Bourne, MA 02532
Chatham Transfer Station
Thurs.-Tues., 8am-4pm
97 Sam Ryder Rd.
Chatham, MA 02633
Dennis Transfer Station
Wed.-Sun., 8am-4pm
100 Theophilus F Smith Road
Dennis, MA 02660
Eastham Transfer Station
Sat. - Wed., 7:30am-3:30pm
555 Old Orchard Road
Eastham, MA 02642
Falmouth: MacDougall's Boat Yard
Tues. & Thurs., 10am-1pm
145 Falmouth Heights Rd,
Falmouth, MA 02540
ACCESSIBLE TO FALMOUTH RESIDENTS
Wellfleet Transfer Station/Recycling Center
Fri. – Tues., 8am–3:30pm
370 Coles Neck Road
Wellfleet, MA 02667
"Dump stickers" are not required to access the shrink wrap recycling containers.  Visit the Woods Hole Sea Grant web site for more information https://seagrant.whoi.edu/community-engagement/shrinkwraprecycling/.
This program is funded by a grant from the NOAA Marine Debris Program and the National Sea Grant Program.
Contact:
Stephanie Murphy, samurphy@whoi.edu
Kari Parcell, kari.parcell@barnstablecounty.org
About Sea Grant
Based at Woods Hole Oceanographic Institution, Woods Hole Sea Grant encourages environmental stewardship, long-term economic development, and responsible use of the nation's coastal and ocean resources. It conducts research and education and supports an extension advisory program in concert with the Cape Cod Cooperative Extension. Woods Hole Sea Grant is part of the NOAA-funded National Sea Grant College Program, a network of 34 individual programs located in each of the coastal and Great Lakes states.