Effects of environmental quality on early stage juvenile shellfish growth and survival:
An aquaculture approach using in situ eutrophication and coastal acidification gradients
Summary
The PIs seek to understand the impacts of ocean acidification on economically important shellfish species by investigating whether the responses observed in laboratory experiments reflect those observed under field conditions, where beneficial environmental factors such as increased food supply may offset the negative impacts of stressors such as low oxygen and low pH. Building upon previous work at Woods Hole Sea Grant/Cape Cod Cooperative Extension that monitored growth rates and size of cultured oysters in different locations, the PIs hypothesize that differences in population and individual growth rates between sites will be driven by several specific factors, namely food availability, degree of acidification (indicated by aragonite saturation state), and dissolved oxygen. The project focuses on juvenile oysters and hard clams, and utilizes natural gradients in carbonate chemistry and eutrophication status at six locations within the Three Bays areas in Barnstable (Cape Cod) to directly test the response of juvenile oysters and hard clams of the same cohort to eutrophication-induced acidification.
Photo Essay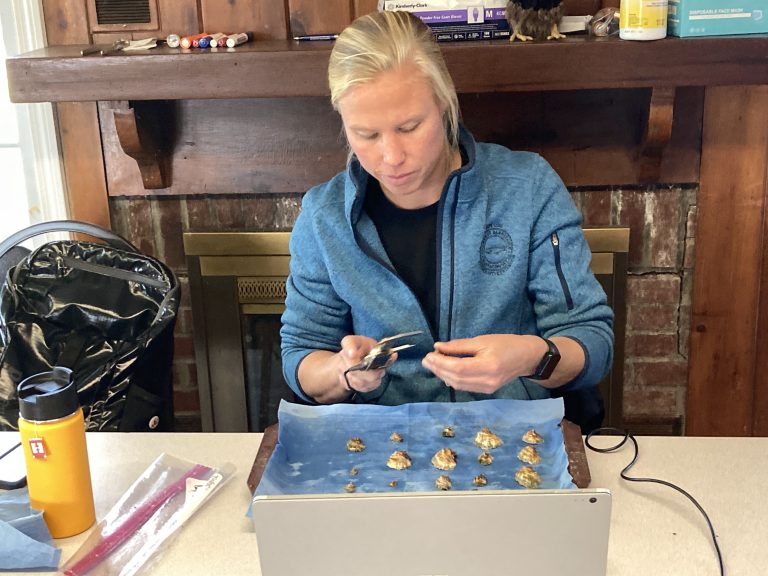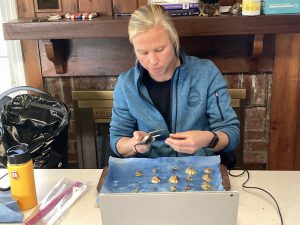 We have created a photo essay for this project as Woods Hole Sea Grant and Cape Cod Cooperative Extension respond to a question asked by members of the Massachusetts shellfish aquaculture industry. Lab studies show that shellfish exposed to acidic conditions will have poor growth and survival. Is this happening now in the waters of Cape Cod? Will oysters and quahogs exposed to varying acidic conditions in their natural environment also have differences in growth or survival? Or will other conditions in the environment like the amount of food available, balance out the effects of acidic water?
Please click on each photo on the essay site from left to right to learn all about this great project!