Marine Invaders: Green crabs and other local invasive species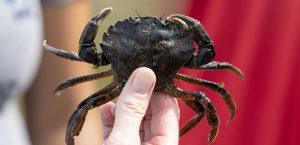 Presenters:
Dr. Carolyn Tepolt, WHOI Biology Department - Invasive Species on Our Shores, Presentation Slides
Dan Martino, co-owner, Cottage City Oysters - Invasive Species in Aquaculture, Presentation Slides
Date:  December 2021
Lesson Plans and Classroom Activities
Background and Resources
Deeper Exploration:  Scientific Journals
Tepolt, Carolyn & Grosholz, Edwin & Rivera, CE & Ruiz, Gregory. (2021). Balanced polymorphism fuels rapid selection in an invasive crab despite high gene flow and low genetic diversity. Molecular Ecology. 10.1111/mec.16143. (see included pdf)
Tepolt, Carolyn & Darling, John & Blakeslee, April & Fowler, Amy & Torchin, Mark & Miller, Whitman & Ruiz, Gregory. (2020). Recent introductions reveal differential susceptibility to parasitism across an evolutionary mosaic. Evolutionary Applications. 13. 10.1111/eva.12865.  (see attached pdf)
Tepolt, Carolyn & Palumbi, Stephen. (2020). Rapid Adaptation to Temperature via a Potential Genomic Island of Divergence in the Invasive Green Crab, Carcinus maenas. Frontiers in Ecology and Evolution. 8. 580701. (see attached pdf)
Papers referenced in Dr. Tepolt's talk:
Bloch, Christopher & Curry, Kevin & Fisher-Reid, M. Caitlin & Surasinghe, Thilina. (2019). Population Decline of the Invasive Asian Shore Crab (Hemigrapsus sanguineus) and Dynamics of Associated Intertidal Invertebrates on Cape Cod, Massachusetts. Northeastern Naturalist. 26. 772.
Dunne JA, Lafferty KD, Dobson AP, Hechinger RF, Kuris AM, et al. (2013) Parasites Affect Food Web Structure Primarily through Increased Diversity and Complexity. PLOS Biology 11(6): e1001579.
Eash-Loucks, Wendy & Kimball, Matthew & Petrinec, Kathryn. (2014). Long-term changes in an estuarine mud crab community: Evaluating the impact of non-native species. Journal of Crustacean Biology. 34. 731-738.
Grosholz E, Ashton G, Bradley M, Brown C, Ceballos-Osuna L, Chang A, de Rivera C, Gonzalez J, Heineke M, Marraffini M, McCann L, Pollard E, Pritchard I, Ruiz G, Turner B, Tepolt C. Stage-specific overcompensation, the hydra effect, and the failure to eradicate an invasive predator. Proc Natl Acad Sci U S A. 2021 Mar 23;118(12).
Pimentel, David & Zuniga , Rodolfo & Morrison , Doug (2005). Update on the Environmental and Economic Costs Associated with Alien-Invasive Species in the United States, Ecological Economics.Volume 52, Issue 3, Pages 273-288.
Workshop Agenda
Friday, Dec. 3, 2021
8:45 – 9:15 -- Arrive WHOI Redfield Auditorium.  Breakfast: pastries, coffee, juice, tea, water
9:15 – 9:30 --Introduction to Woods Hole Sea Grant and WHOI
9:30 – 10:30 -- Dr. Carolyn Tepolt, WHOI Biology Department
10:30 – 10:45 -- Break
10:45 – 11:45 -- Dan Martino, co-owner, Cottage City Oysters, Martha's Vineyard
11:45 – 1:00 -- LUNCH.  Lesson plans, standards, and classroom integration discussion. Free time to walk around Woods Hole village.
1:00 – 1:15 -- Split into 2 groups and proceed to afternoon sessions
1:15 – 2:15 -- Group 1 - Field trip to tide pool. Group 2 - hands-on classroom activities.
2:15 – 3:15 -- Groups swap locations
3:15 - 4:00 -- Tour of the R/V Neil Armstrong