Dolphin Tales – Stories and facts about dolphins and marine mammal strandings in the Southeast US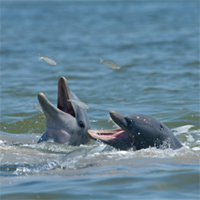 October 14, 2020
Is it a fish or is it a mammal? Tune into this presentation full of fun facts about dolphins, their biology, and how we study them. Find out about marine mammal strandings (what is that and why does it happen?), what NOAA does in response to one of these events, and how to find out more about the stranding network in your area. This webinar will be recorded and posted here (with English captions and Spanish subtitles) after going live. (Grades 2-8 but all ages will enjoy)
Resources to access at home:
» Marine Mammal Health and Stranding Response Program: Learn more about the volunteer stranding and entanglement networks and find your regional program.
» Report a Stranded or Injured Marine Animal
» FAQs about why it is illegal to feed or harass a marine mammal in the wild.
» Video used during the talk: Dolphin Sounds – Sounds of Nature
» NOAA National Marine Sanctuaries Outreach Corner: Marine mammal and sea turtle viewing guidelines, see and id smartphone apps, fact sheets and more.
» NOAA Marine Debris Activities and Curricula: Activity books, bookmarks, magnets, and more.