Following 'Ō'io: The Life of Hawaiian Bonefishes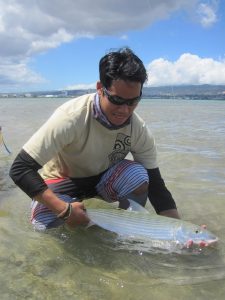 May 20, 2020
It's easy to follow friends and family who are important to us through social media. But there is no Facebook for fish. So how do we keep track of fish species that are important to our fisheries? Hawai'i is home to two species of bonefish, including one found nowhere else in the world. Let's take a look at 'ō'io (bonefishes) in Hawai'i, a favorite catch for local anglers, and follow them throughout their lives. By building their life history "profile," we can learn how to protect their habitat and fish sustainably so that the next generation can enjoy a future where fishing traditions―and fish―thrive. (Grades 2-6 but all ages will enjoy)
Resources to access at home:
» Habitat Mapping Activity – Color your way through 'ō'io habitat by hand or on a computer or tablet.
» Pre-spawning aggregation video. (Keith shows a clip in the webinar)
» Bonefish Reproduction Research Project video – You can view a female releasing her eggs.
Fish with Care
» Be a FAST (Fishing Around Seals and Turtles) responder! It's OK to call for help! If you're not in Hawai'i, learn about protected animals in your area and what to do if you see a stranded marine mammal or sea turtle.
» Measure your catch! Check out the Hawai'i Nearshore Fishes Measuring Guide to figure out which fish to keep or release, or find out about fishing in your area. Download the Fish Rules App for saltwater fishing regulations in Federal and State waters from Maine to Texas.
Get to Know NOAA Habitat Restoration in Your Area
» Fish depend on healthy habitat! Check out the NOAA Habitat Restoration Atlas to find out about restoration projects in your area. The searchable map highlights projects across the nation, including community-based restoration projects.