Onward and Downward! Exploring the Deep Ocean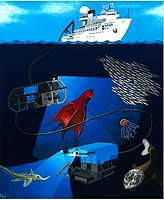 March 30, 2020
The world ocean is essential to all life on earth, covers more than 70 percent of the planet's surface, drives global weather patterns, regulates temperature, and is a bridge that connects all continents. Throughout history, the ocean has been a vital source of sustenance, transport, commerce, joy, fear, mystery, and inspiration. Yet for all of our reliance on the ocean, more than 90 percent of this vast realm remains unexplored. Join us to learn how and why NOAA explores the deep ocean! (Grades 5-8)
Resources to access at home:
» Nautilus Live: Explore the ocean with Dr. Robert Ballard and the Corps of Exploration. View photos, videos, and more from Nautilus expeditions.
» Inner Space Center: A diverse team of ocean scientists, engineers, educators, and video producers at the University of Rhode Island's ISC to share underwater exploration in real time. Access live video feeds and a video gallery.
» NOAA National Centers for Environmental Information Story Map: Understanding Our Ocean with Water-Column Sonar Data
» NOAA Office of Ocean Exploration and Research teams up with Octonauts. Check out Octonauts and NOAA Ship Okeanos Explorer!
» An article and 13-minute video- Ten years of collection ocean exploration data from the NOAA ship Okeanos Explorer.
» NOAA Ocean Today Ocean Exploration and Bioluminescence: There are several short videos here.