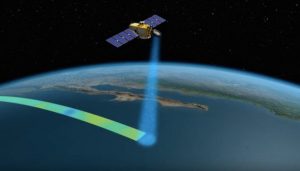 March 27, 2020
Satellites are amazing tools for observing the Earth and the big blue ocean that covers more than 70 percent of our planet. Scientists use data collected by satellites to monitor physical and biological changes in the ocean. Meet one of NOAA's satellite oceanographers, who will describe some of the things we have learned about our oceans by observing them from space. (Grades 3-6 but Grades 7-8 will like the topic too.)
Resources to access at home:
» NOAA Science on a Sphere (SOS) Explorer Mobile: Download this free app from the Apple app store or google play to explore earth and space from anywhere.
» NOAA and NASA's Geostationary Operational Environmental Satellites (GOES): Games, apps, and models to explore! Step by step instructions on how to build your own Lego GOES-R model!
» NOAA and NASA's SciJinks, It's All About the Weather: Satellites, atmosphere, tides and oceans, weather and more. There are games, videos, and a lot of information including a tornado simulator.
» NOAA Satellite Data Sets (ERDDAP): For older students who love data!