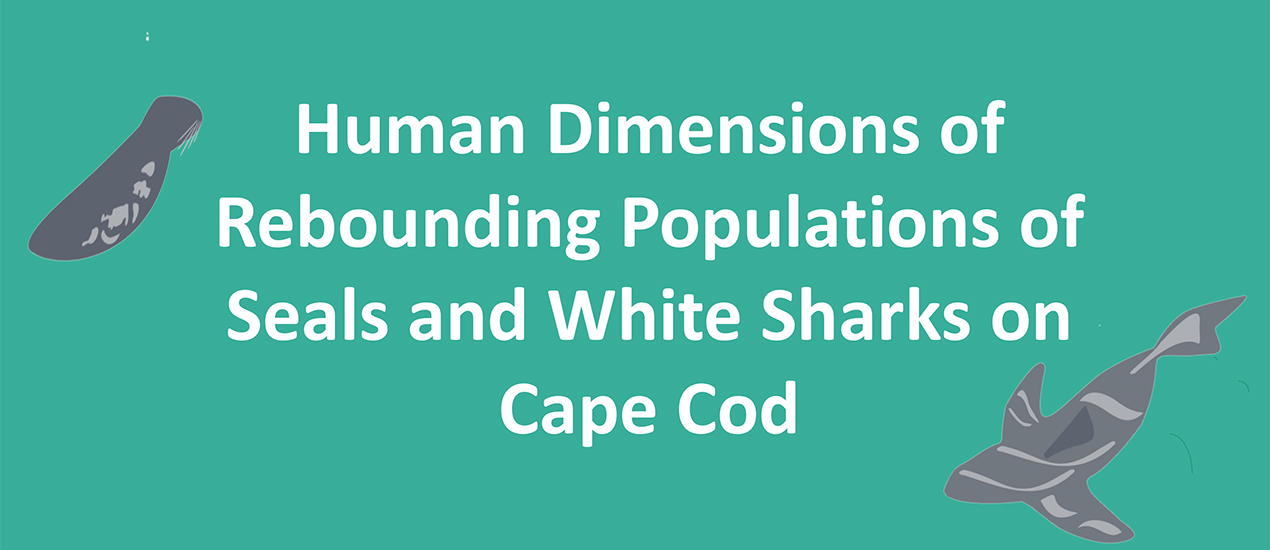 This collaborative project generated knowledge about the views and experiences of residents, tourists, and commercial fishers regarding seals and sharks on Cape Cod. Investigators used surveys to measure stakeholder beliefs, attitudes, and perceptions of seal/shark interactions, management, and conflict mitigation strategies. The knowledge gained from this survey will enable managers, policy makers, and non-governmental organizations to advance marine conservation, promote responsible stewardship, and foster co-existence of humans, seals, and sharks on Cape Cod.
Quick links:
Download the executive summary
Press conference materials
Recording - April 11, 2022

True.
Harbor and gray seals were bounty hunted in Maine and Massachusetts between 1880-1962 until state protection was granted (1965 in MA). 72,284 to 135,498 seals were bounty hunted during that time (Lelli et al. 2009).
True.
Although white sharks were never targeted commercially in the region, by-catch and capture in recreational fisheries were sufficient to reduce population levels by as much as 73% in the 1970s and 1980s (Curtis et al. 2014). In response to declines in the WNA and elsewhere, harvest of the species was prohibited in the US Atlantic in 1997 (National Marine Fisheries Service 1997).
True.
The United States has strong laws that protect seals and sharks.  Seals are protected under the Marine Mammal Protection Act, which went into effect in 1972.  White sharks were listed as a prohibited species by the National Marine Fisheries Service in 1997 and by the state of Massachusetts in 2005.   
Frequently Asked Questions
Interview with Dr. Andrea Bogomolni. Learn about the natural history of seals in the Cape Cod region and what scientists are doing to better understand their population, habitat use, and more.  Learn more about seals.
What do I do if I see a marine animal in distress or entangled in a foreign object?
Do not touch it or move it.  Reporting a sick, injured, entangled, stranded, or dead animal is the best way to make sure professional responders and scientists know about it and can take appropriate action. Numerous organizations around the country are trained and ready to respond. If you see a sick, injured, stranded, or dead marine mammal or sea turtle, immediately contact your local stranding network, which can be found HERE.
Photo Gallery - beach surveys
Head of the Meadow Beach 6/17/21
Nauset Light Beach 6/22/21
Coast Guard Beach 6/18/21
Coast Guard Beach 6/18/21
Principal Investigator
Jennifer Jackman, Salem State University
Co-Principal Investigators
Owen Nichols, Center for Coastal Studies
Lisa Sette, Center for Coastal Studies
Stephanie Wood, Univ. of Massachusetts-Boston
Melissa Sanderson, Cape Cod Commercial Fisherman's Alliance
Stephanie Sykes, Cape Cod Commercial Fisherman's Alliance
Cynthia Wigren, Atlantic White Shark Conservancy
Megan Winton, Atlantic White Shark Conservancy
Marianne Long, Atlantic White Shark Conservancy
Allen Rutberg, Center for Animals and Public Policy of the Cummings School of Veterinary Medicine at Tufts University
Seana Dowling-Guyer, Center for Animals and Public Policy of the Cummings School of Veterinary Medicine at Tufts University
Research Team
Rachel Bratton, University of Massachusetts Boston School for the Environment
Catherine Cummings, Tufts University Center for Animals and Public Policy
Vanessa Bramante, Salem State University
Victoria Kako, Salem State University
Emily Hanlon, Salem State University
Derek Baseman, Salem State University
Nikki Brewster, Salem State University