DECEMBER 2020 CONTENTS
Letter from the Director

WHSG Continues DEI Efforts with Recording of Virtual Seminar on Systematic Racism in America

Women in STEM Panel Discussion, Part of Girls In Science Program,  Available For Viewing Online

New Extension Bulletin Available On Use of Discarded Christmas Trees

New Funding Opportunity Available - Biennal Request for Proposals

Shannon Hulst Recognized by FEMA for Floodplain, CRS Work

Surf Clam Project Involves Local Partners, Growers

NOAA Live! Continues to Entertain, Educate Students

Congress Reauthorizes NOAA Sea Grant Through 2025

Cranberry Bog Project Recognized as Best Research to Application Project in Sea Grant Network

Boat Owners Asked to Complete Shrink Wrap Recycling Survey

Upcoming Events and Programs
SUBSCRIBE
ISSUE ARCHIVE
» Read past issues of Coastal Impacts
CURRENT ISSUE
Letter From the Director
This year has been a challenging one for our team as it has been for many of you in the communities we serve. Yet, we did learn, and feel very fortunate, that we could continue to carry out the majority of our program goals in a largely virtual world.
With our program offices split between Woods Hole and Barnstable, we also realized that we could conduct business remotely in an effective manner. Taking advantage of this, we devoted many of our team meetings in 2020 to strategic planning.
With the sage advice of our Marine Outreac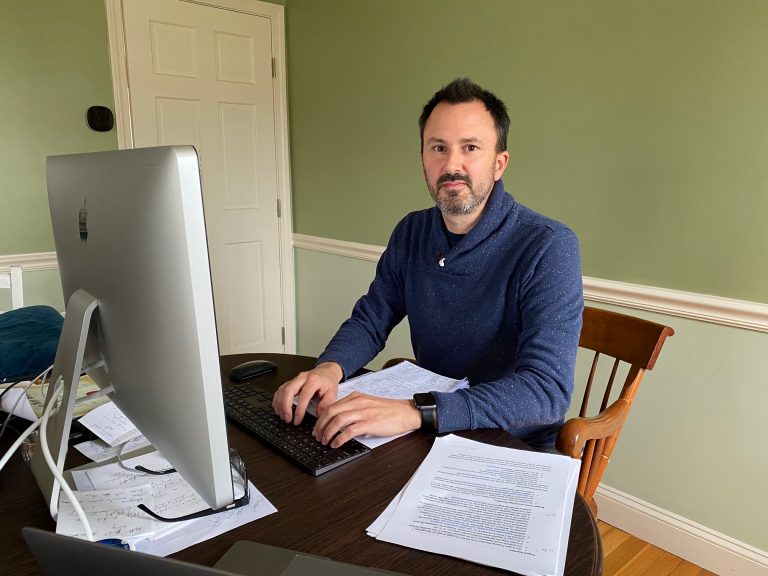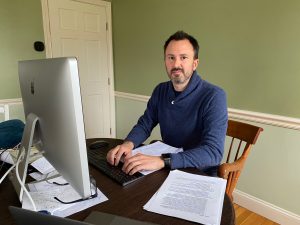 h Guidance Group (MOGG), and drawing on results from a stakeholder survey that received over 300 responses, we are pleased to share with you the results of this endeavor: Putting Science to Work for Massachusetts' Diverse Coastal Communities.
In this strategic plan, we set forth a number of program goals based on our overall mission "to enhance the practical use and conservation of coastal and marine resources by developing and sharing science-based knowledge to create a sustainable economy and environment for the diverse communities of Massachusetts".
Of special note is a new section devoted to our plans with respect to enhancing diversity, equity, and inclusion across all program activities. Most importantly, we consider our plan to be a living document, so we welcome your new ideas and suggestions that will help us achieve our mission.
Finally, from all of us at Woods Hole Sea Grant: best wishes for the New Year.
WHSG Continues DEI Efforts with Recording of Virtual Seminar on Systematic Racism in America
A recording of "A Sea Change: Oceanographers Learn From Psychologists about Systematic Racism in America"  is now available through the 
WHSG diversity, equity and inclusion website. T
he virtual symposium curated by Dr. Collin Ward at the Woods Hole Oceanographic Institution on Nov. 20 is part of WHSG's initiative to increase DEI in the marine sciences.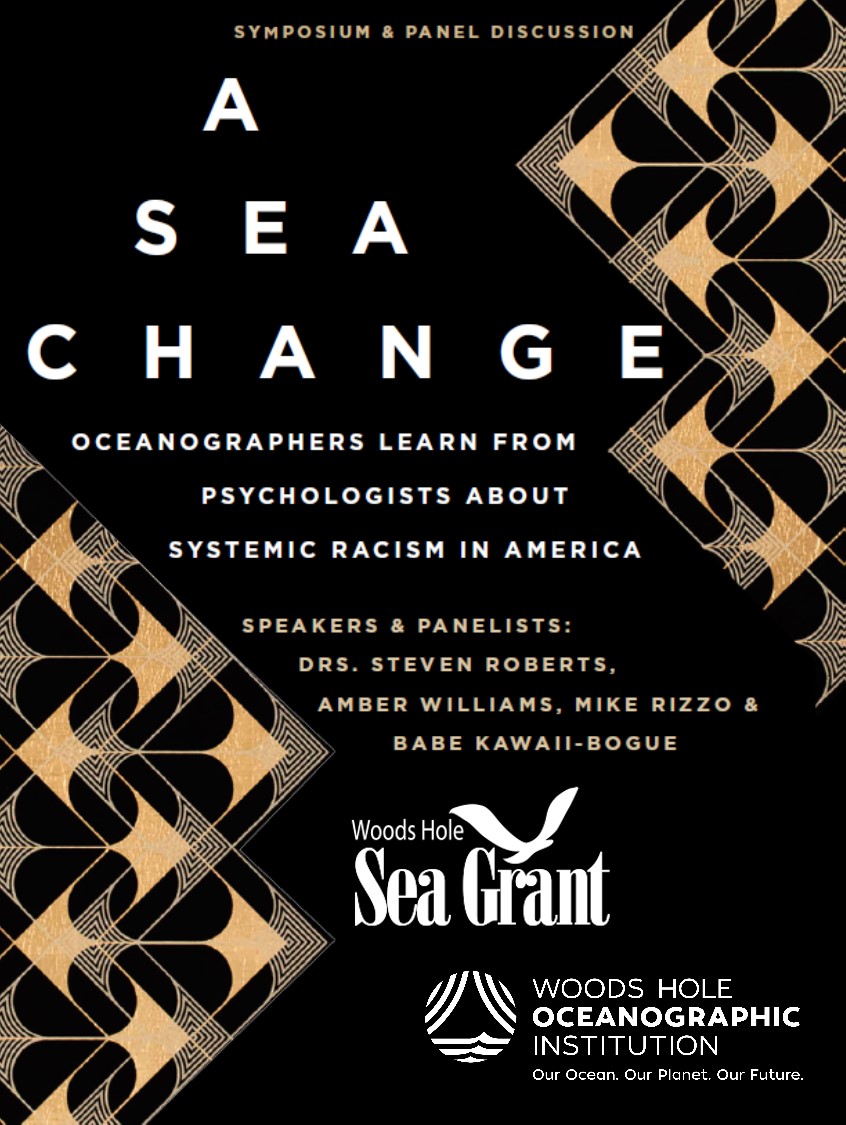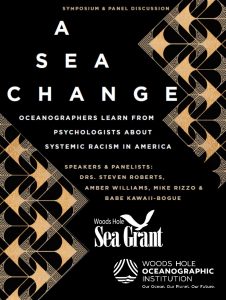 The symposium brought together four experts conducting research about systemic racism in America and how to combat it. The speakers and the titles of their talks were:
Dr. Steven Roberts: 

Systemic Racism in Psychological Science

Dr. Amber Williams: 

Teaching Toward a More Just Society: Experiencing and Confronting Racism in the Classroom

 

Dr. Mike Rizzo: 

Racial biases emerge in early childhood: What White parents should do to preempt them

 

Dr. Babe Kawaii-Bogue: 

Combating Anti-Blackness and White Supremacy in Institutions, Recommendations for Anti-Racist Actions
The symposium is part of Woods Hole Sea Grant's committment to building inclusive marine science programs that serve people with unique backgrounds, circumstances, needs, perspectives, and ways of thinking. To help further this mission, the program has awarded funding to eight projects aimed at taking steps toward addressing the issue.
"Woods Hole Sea Grant recognizes the need for innovative solutions to address the gross lack of diversity in our field," said Director Matt Charette. "These projects include concrete steps to meaningfully improve diversity, equity and inclusion (DEI) not only in the sciences, but across all walks of life," Charette said. "It's our hope that these projects will in turn inspire others, lead to additional efforts and make a noticeable impact."
Women in STEM Panel Discussion, Part of Girls In Science Program,  Available For Viewing Online
A Woods Hole Sea Grant sponsored "Women in STEM" panel discussion is now available for viewing online, with English captions and Spanish subtitles included.
This webinar was designed with high school students in mind and was a collaboration between Woods Hole Sea Grant, Earthwatch Institute, and the Woods Hole Oceanographic Institution. Each speaker shared the journey they took to reach their current career as well as challenges and highlights along the way.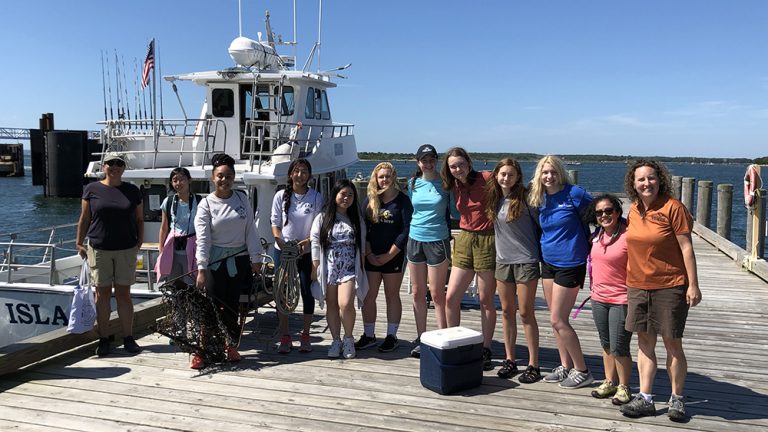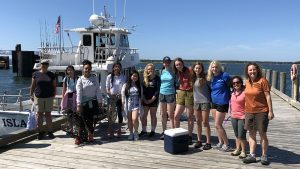 The speakers were:
Laela Sayigh, Marine Mammal Acoustic Research Specialist at the Woods Hole Oceanographic Institution (WHOI). Laela's research focusses on the social behavior and communication of cetaceans (whales and dolphins).
Kerry Strom, Marine Operations Coordinator at WHOI. Kerry is the schedule planner for R/V Atlantis, Armstrong, HOV Alvin, ROV Jason & AUV Sentry and soon to be R/V Resolution. Kerry is also WHOI's US State Dept. liaison for marine scientific research applications.
Sarai Zelada, Urban and Regional Planning Master's Student at the University of Michigan and former Earthwatch Program Coordinator for the Girls in Science Program. As an urban planner, Sarai focusses on how to use city planning as a tool for social change.
Jennie Rheuban, Marine Chemistry and Geochemistry Research Specialist at WHOI. Jennie focuses on the effects of climate change on coastal environments. She is also the Research Coordinator at Woods Hole Sea Grant.
Amanda Dwyer, a Knauss Fellow with the NOAA Marine Debris Program. In December, Amanda started a marine science policy fellowship focused on implementing a zero waste initiative for NOAA's National Ocean Service and providing additional support to the Marine Debris Program.
The discussion is part of our Girls in Science Program. To learn more about our 2021 residential program in Woods Hole (high school women attending school in MA are eligible) visit our Woods Hole Sea Grant site or the Earthwatch Institute site.
To Tree or Not to Tree
New Marine Extension Bulletin Explores History, Feasibility of Using Christmas Trees in Dune Stabilization
In the days following the holidays when it's time to clear out all the decorations, Massachusetts residents often wonder what to do with their Christmas trees. In coastal areas of Massachusetts that often leads to questions about whether discarded trees can be used in dune stabilization.
A new marine extension bulletin from Woods Hole Sea Grant (WHSG) and Cape Cod Cooperative Extension (CCCE) takes a look at the practice through history, mechanics, and best management practices and "To Tree or Not to Tree: The use of discarded Christmas trees for dune stabilization in Massachusetts" comes to the conclusion that the answer, most likely, is no.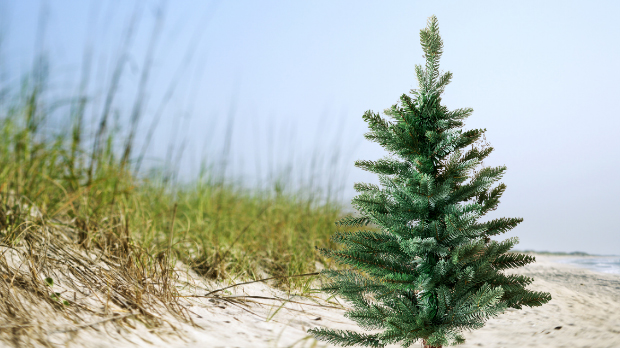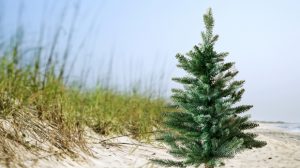 While used for many decades, within the last 20-30 years the practice has fallen out of favor locally due to the high potential to harm habitat and to make erosion worse if improperly sited, according to bulletin author Greg Berman, coastal processes specialist for WHSG/CCCE.
Placing discarded Christmas trees in the wrong place, or the wrong way, can cause harm to the dunes, beach, and the species that utilize them. Within dune and beach environments in Massachusetts, the local Conservation Commission must be contacted to conduct a regulatory review and permitting process before the placement of trees can occur.
Typically, Berman said, sand fence is a more appropriate choice, however Christmas trees can relatively cheaply and efficiently accumulate sand if installed properly in one of the rare locations in Massachusetts that is suitable for this technique. It's local officials that know that answer best.
Visit our website for more on the practice and tips on other potential uses for discarded trees.
Woods Hole Sea Grant Biennial Request For Proposals Now Open
Woods Hole Sea Grant is requesting proposals for two-year projects from investigators at academic, research and educational institutions throughout the state of Massachusetts. Funded projects will fill information gaps or provide innovative solutions to pressing coastal issues in Massachusetts and should be designed to help address important local management problems.
Approximately $1 million will be available to support 5-10 research projects during the two year funding period. Sea Grant proposals require a match of $1 of non-federal funds for every $2 of federal funds requested.
Pre-proposals are due by: 4:30 p.m. Eastern Time, Friday, February 19, 2021
Full proposals are due by: 4:30 p.m. Eastern Time, Friday, May 28, 2021
Informational webinars will be held on January 4th, 2021 at 1 p.m.and on January 25th, 2021 at 1 p.m. via Zoom to answer any questions. Registration is required and can be made by clicking on the links.
More information and the full request for proposals
Questions? Contact Woods Hole Sea Grant's Research Coordinator Jennie Rheuban at seagrant-research@whoi.edu
For other funding opportunities and fellowships, please visit https://seagrant.whoi.edu/funding-2/fund
FEMA Honors WHSG Staff Member with Community Rating System Award for Excellence
Shannon Hulst, the Woods Hole Sea Grant and Barnstable County Floodplain and Community Rating System Specialist, recently received the 2019 CRS Award for Excellence from the Federal Insurance and Mitigation Administration (FIMA)—a division of Federal Emergency Management Agency (FEMA). The award is presented to individuals who provide outstanding leadership in the Community Rating System (CRS) and the National Flood Insurance Program (NFIP).
In a letter from FIMA, Floodplain Management Division Director Rachel Sears summed up the importance of Hulst's commitment and leadership.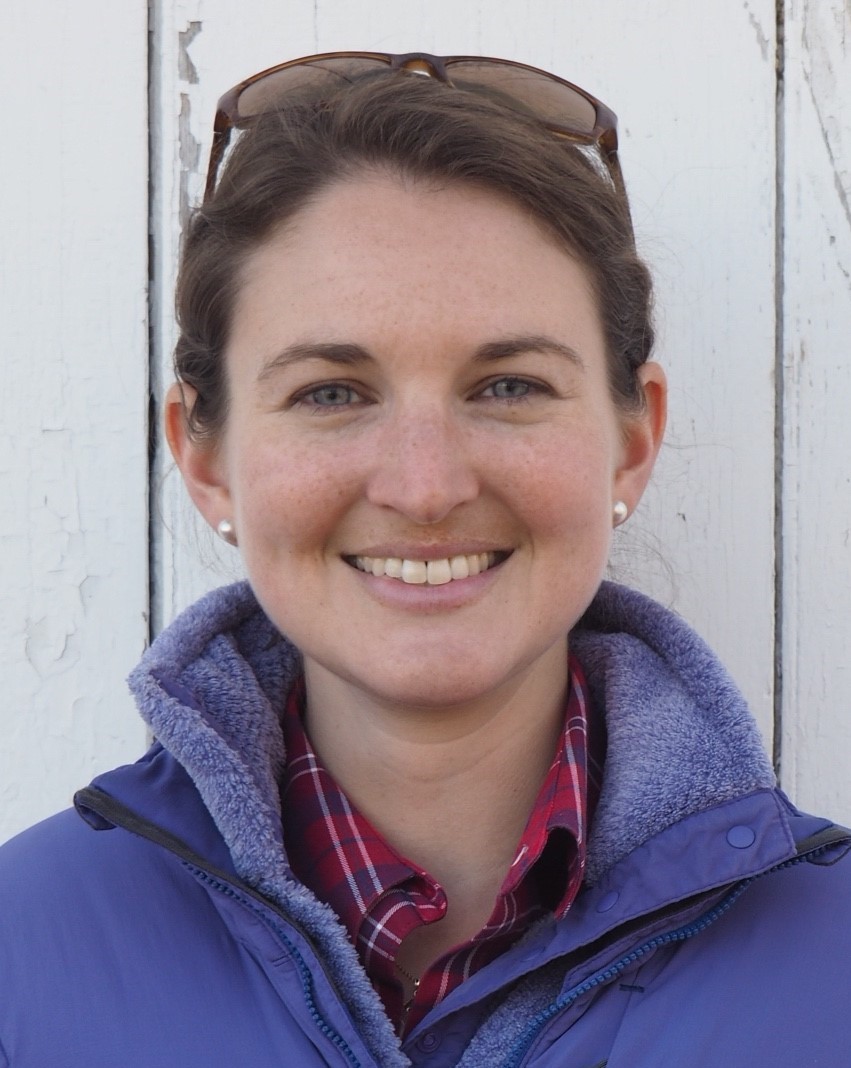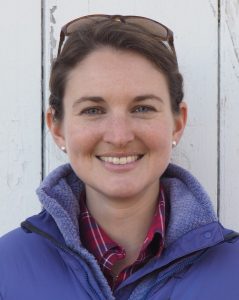 "The CRS Award for Excellence recognizes those who have actively advanced the vision of the NFIP and the CRS and have undertaken efforts to improve the flood safety and resilience in their community—in your case, 15 communities. Your hands-on efforts have made the CRS an accessible and collaborative program. You have gone above and beyond to understand community needs and involve citizens; elected officials; numerous regional, state, and federal agencies; and other stakeholders."
The floodplain and CRS position was created in 2015 and Shannon holds joint staff positions with WHSG and Cape Cod Cooperative Extension. She has saved Barnstable County home and business owners $1.8M since 2015 and has helped make each of the fifteen towns on Cape Cod more prepared to prevent and respond to flooding.
Director of Cape Cod Cooperative Extension Mike Maguire said, "Barnstable County's commitment to innovative and forward-thinking projects like the CRS position has put Cape Cod residents in the enviable position of being ahead of the curve when it comes to floodplain management and mitigation. Shannon's work has been nothing short of exceptional; her commitment to her job, her passion for floodplain management, and her love for the region and our community shine through every day. This award is well-deserved; we are fortunate to have her helping our residents and community with this complicated and increasingly critical issue on Cape Cod."
Woods Hole Sea Grant Director Matt Charette said, "Most importantly, Shannon's tireless work in this area has helped our region become more resilient to flooding from rising seas and more intense coastal storms brought on by climate change."
To read more on Shannon's award, visit the Barnstable County website.
For information on flooding preparation and awareness, visit seagrant.whoi.edu and www.capecodextension.org/coastalprocesses
~Sonja Sheasley, Barnstable County Communications Manager
WHSG Project Explores Growth, Mortality of Surf Clam Species
Following the results of a 2016-2019 project on Atlantic surf clams,  WHSG staff wondered if a subspecies, the Southern surf clam, might grow better in Cape Cod waters, especially during the summer since it is exposed to higher temperatures in the southern part of its range.
Permission from the Division of Marine Fisheries was requested and they approved because the Southern surf clam is naturally present in Cape Cod waters.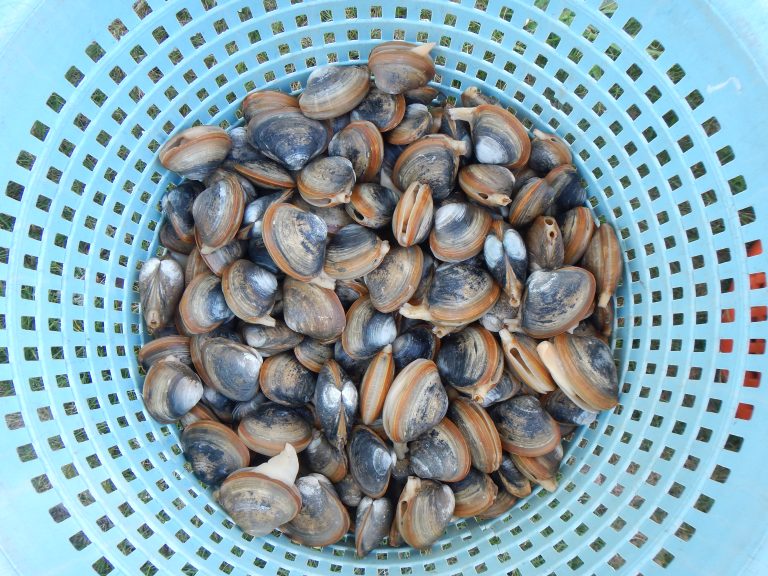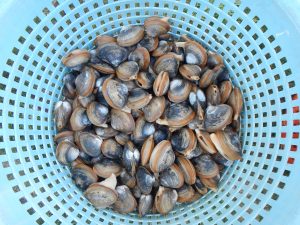 Hatcheries raised both the Atlantic and the Southern surf clams, and WHSG sought out shellfish growers to work collaboratively on an experiment to compare mortality and growth rates of the two types of surf clam.
For more on that effort and a photo gallery of WHSG staff planting the clams with the help of shellfish farmers in Provincetown, Eastham, and Barnstable Harbor, click here.
NOAA Live! Continues to Entertain, Educate and Engage Students
The ever popular NOAA Live! series of webinars meets every Wednesday at 4 p.m. ET to engage with students and introduce them to new topics weekly - and it now has live American Sign Language interpretation!
Find all the listings at bit.ly/NOAALive4Kids or follow them on Facebook to find out the weekly topic.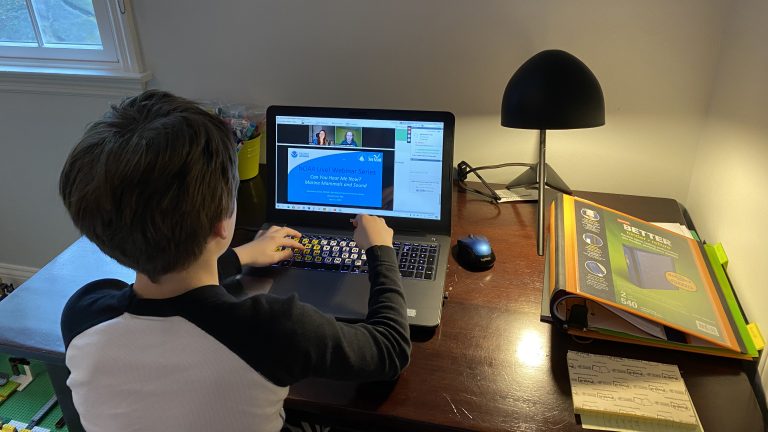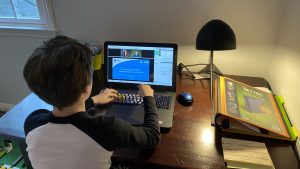 Each webinar features a different NOAA expert/topic and a moderated question and answer session throughout.
Webinars are streamed via GoToWebinar, geared toward grades 2-8, are about 45 minutes in length, and will be recorded and added to the YouTube playlist (with English captions and Spanish subtitles).
Congress Reauthorizes NOAA Sea Grant Through 2025
The National Sea Grant College Act was reauthorized and amended by Congress and signed by President Donald J. Trump on December 18, 2020.
The reauthorization, titled the "National Sea Grant College Program Amendments Act of 2020," includes several updates to Sea Grant's authorizing legislation, such as direct hire opportunities for Knauss fellows by participating f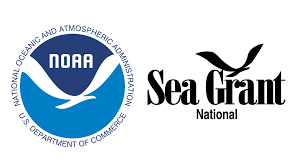 ederal agencies following their fellowship year.
Woods Hole Sea Grant extends its deepest gratitude to the members of Massachusetts' congressional delegation and all of our stakeholders for their support as the National Sea Grant Program and Sea Grant Association moved toward this critical piece of legislation.
Sea Grant Association Recognizes Cranberry Bog Nitrogen Project with Award
Sea Grant recently rolled out the (virtual) red carpet to recognize some of its own for their exemplary efforts at putting science to work for America's coastal communities. Projects and individuals from Woods Hole, Maine, Virginia, Georgia, North Carolina, Oregon, and South Carolina Sea Grant programs were recognized.
The Research to Application (R2A) award honors an individual research project or a body of research funded or implemented by a state Sea Grant program that has increased citizens' understanding and responsible use of the nation's ocean, coastal or Great Lakes resources, or has supported the informed personal, policy and management decisions of communities, or has led to the development of new products or tools with positive impacts related to a vibrant and resilient coastal economy or environment.
The 2020 R2A award went to Woods Hole Sea Grant for "A Watershed-Scale Analysis of Nitrogen Loading from Cranberry Agriculture in the Weweantic Watershed of Southeastern Massachusetts" led by Chris Neill of the Woodwell Climate Research Center and his colleagues Rachel Jakuba of the Buzzards Bay Coalition and Casey Kennedy of the U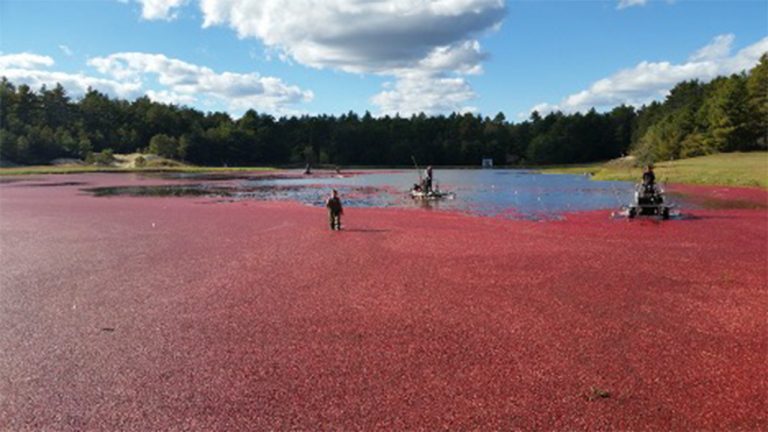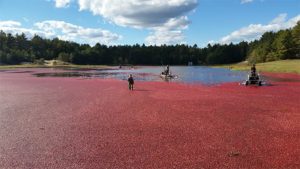 S Department of Agriculture – Agricultural Research Service and University of Massachusetts Cranberry Station.
The state of Massachusetts is now using the team's findings to prioritize sites for wetlands restoration. Additionally, the project provided valuable information in a plan by the state to accelerate cranberry bog restoration. The state of Massachusetts recently received $10 million in funding from the U.S. Department of Agriculture to carry out the restoration work.
In some watersheds, especially in southeastern Massachusetts, cranberry agriculture represents a significant portion of the anthropogenic watershed nitrogen load. The research team quantified the contribution of cranberry bogs to estuarine nitrogen loads. Working with project partners, they developed GIS maps of bog locations, area, hydro-geographical setting and management type (flow-through, standard wetland bog separated from surface water, upland bog). Along with information on river flow networks and nitrogen attenuation in streams, results from their project can be used to estimate the range of surface water nitrogen loading from different types of cranberry bogs as well as explore future scenarios such as changes to bog management, retirement of cranberry bogs, or changes in river flows.
Read more on the cranberry bog project in the newsletter archive.
~Brooke Carney, National Sea Grant Office
Boat Owners: Your Input Is Needed
Woods Hole Sea Grant is conducting a survey of boat owners on boat shrink wrap, issues with recycling it, and the use of reusable covers. Individual responses are anonymous an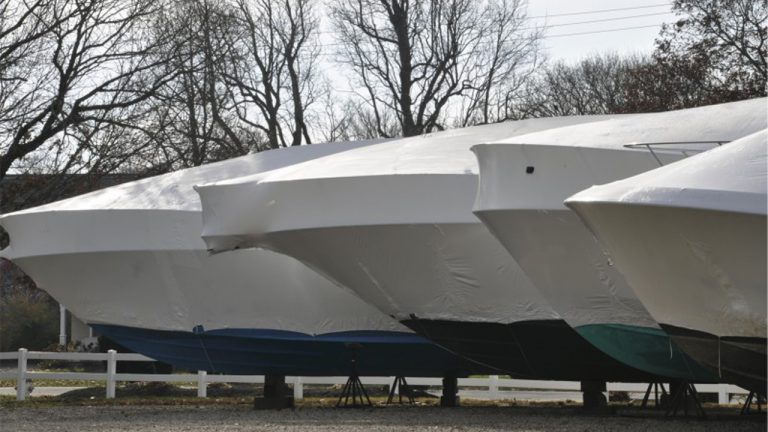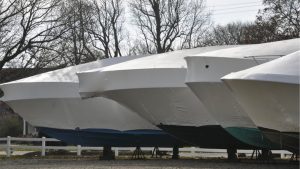 d will be combined with those of other boat owners.
The summarized results will help to guide approaches to improving recycling of plastic shrink wrap and increasing the awareness of and expanding the alternatives to plastic shrink wrap.
The survey can be accessed at https://www.surveymonkey.com/r/boatowners-ma and should take approximately 10 minutes to complete. Boat owners are asked to respond to the survey before January 30, 2021. Thank you in advance for your support of this important initiative.
Upcoming Events and Trainings
Fundamentals of Shellfish Farming:
Practical Tools, Tips & Techniques
Course Offered by Woods Hole Sea Grant, Southeastern MA Aquaculture Center,
And Barnstable County Cape Cod Cooperative Extension
February 4 – April 1, 2021
Thursday Evenings, 7-8:15 p.m. via Zoom
This 10-week virtual but interactive course will cover the basics of shellfish aquaculture with an emphasis on learning practical information. Students will be introduced to shellfish biology, hatchery & nursery production, field grow-out of oysters and clams, and safe shellfish handling and harvest practices. The course will also include materials on the management of predators, pests and diseases, as well as basic informat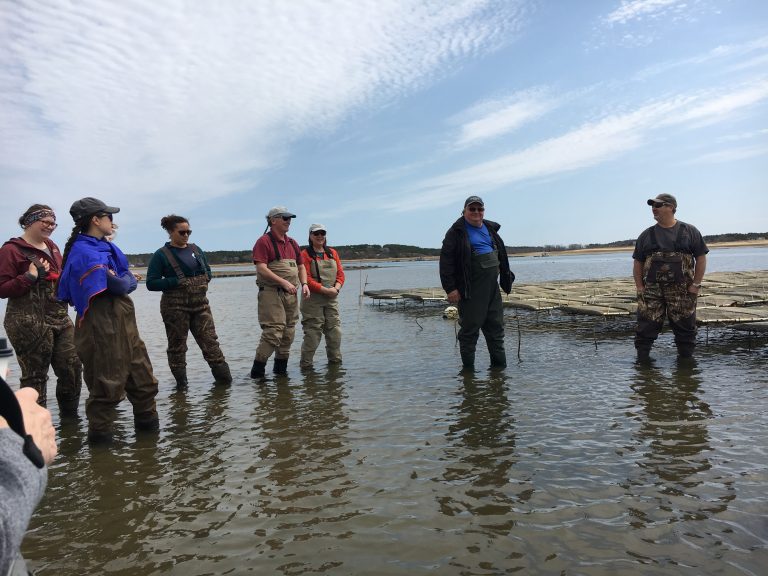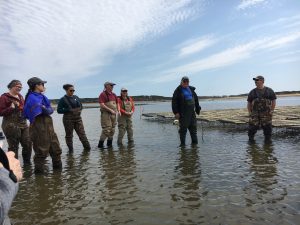 ion on business management, permitting, and safety.
Staff from Cape Cod Cooperative Extension and Woods Hole Sea Grant will teach this course along with guest lecturers from people who farm shellfish for a living and experts in particular fields such as shellfish diseases and permitting procedures.
Additional optional outdoor field trips will be offered in the spring if it is safe to do so given the COVID-19 pandemic. Cost for the 10-week course is $75.00. Students wishing to receive a certificate of successful completion of the course will take a final 'open book' exam. Certification will be issued by the Southeastern Massachusetts Aquaculture Center (SEMAC) Board of Directors to students.
To register please contact Abigail Archer at aarcher@barnstablecounty.org or 508-375-6702.
Donate to Woods Hole Sea Grant
Click the donation link on the Woods Hole Sea Grant website and directly support the important coastal research, extension, and education at Woods Hole Sea Grant. We thank you in advance!