Knauss Fellow Profile: Tricia Perez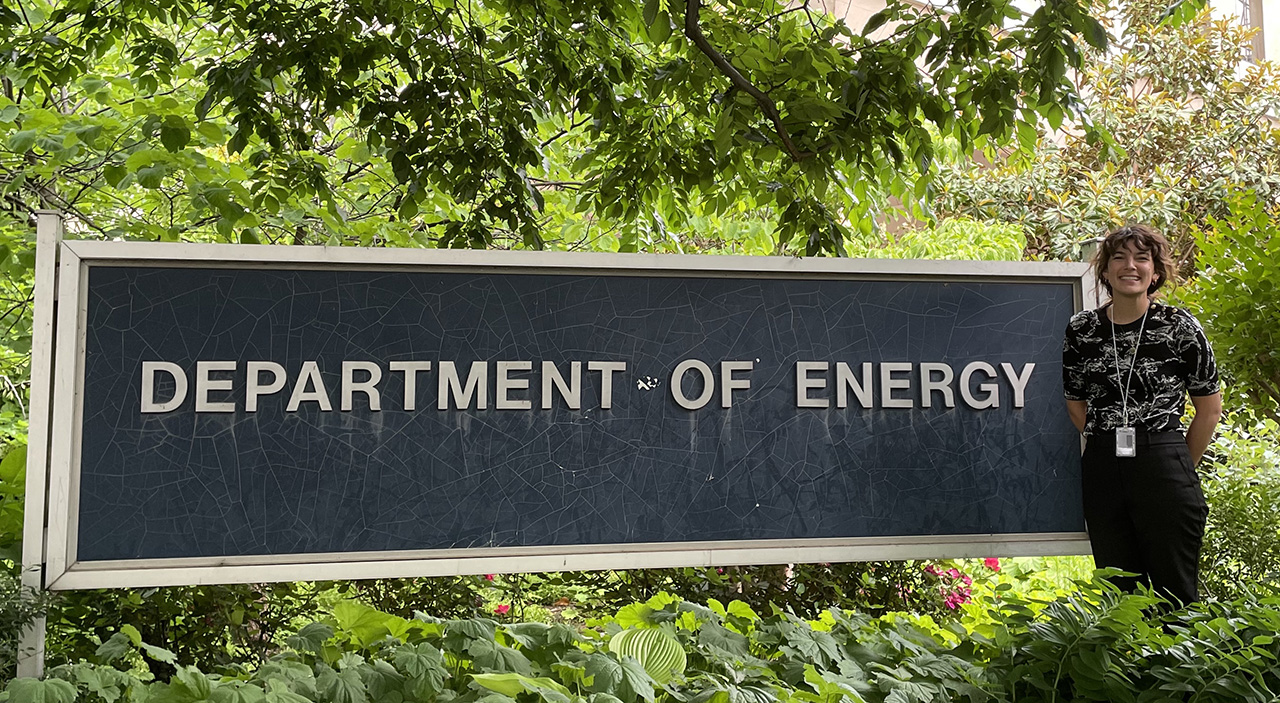 Hometown: Brookeville, Maryland
Area of research focus/interest: Fisheries Science & Management and Ocean Renewable Energy
What are you doing during your Knauss Fellowship? I am placed within the Wind Energy Technologies Office (WETO) and the Water Power Technologies Office (WPTO) at the Department of Energy (DOE). I represent DOE's priorities around offshore wind and marine energy in interagency spaces that create high level ocean policy for the United States federal government. I also lend my fisheries expertise around offshore wind within the Environmental portfolio in WETO. Lastly, I assist the interagency partnership DOE has with NOAA National Sea Grant that supports research and extension work.
What has been the most positive part of being a Fellow? How about the most challenging? The most positive part of being a fellow is the mentorship. Working within two offices at the DOE has given me access to many past fellows and federal mentors. The most challenging part of being a Fellow is getting up to speed on the work of your office. Like any new job, it can take a moment to learn the topic and material you will be working on, the players in your office and in other agencies, and what initiatives are taking priority at the moment.
What's one thing you've learned during your time in Washington, D.C. that has surprised you? My fellowship experience is remote, however I did travel to DC and stay for month to meet folks in my office and network outside of my office. I was surprised by the energy of DC – so many passionate people are working within and around the government. Anyone you strike up a conversation with is likely working on something important and exciting.
What was the last thing you read? The last book I read was "The Island of Sea Women" - a heartbreaking but beautifully written novel about the haenyeo women in Korea.
Got any podcast recommendations? Honestly, I'm not big on podcasts but one on my list is "The First Coast" that tells stories of the Maine coast.
Who has been your inspiration? My granddaddy who held the rank of Rear Admiral in the NOAA Commissioned Corps as Director of the Office of Charting and Geodetic Services, National Ocean Service, NOAA. My draw to the ocean was always supported by him and being a Fellow with NOAA would have surely made him proud.
What's the most interesting place you've ever visited and why? It was so interesting visiting China during the Chinese New Year to witness this celebration!
What is something about you that people would be surprised to learn about you? I spent a season as a sternman on lobster boat. It was a blast, gave me strength, and brought me closer to my industry and field.
What's your favorite quote from a book/movie or TV show? "I just want to lie on the beach and eat hot dogs. That's all I've ever wanted." – Kevin Malone, The Office, Season 3, "Beach Games"
What are your plans post-fellowship? I'm hoping to find a position where I can leverage my fisheries training and the offshore wind knowledge I've gained through this position to contribute to ocean co-use solutions these two industries will need.
What would be your number one recommendation to a younger version of yourself? Don't be afraid of a challenge
Cats or Dogs? 1 of each