AUGUST 2020 CONTENTS
Updated Handbook Helps Homeowners Prepare for Natural Hazards

Out and About With Woods Hole Sea Grant!
SUBSCRIBE
ISSUE ARCHIVE
» Read past issues of Coastal Impacts
CURRENT ISSUE
Updated Handbook Helps Homeowner's Prepare for Natural Hazards
Natural hazards are part of life near the coast. To help homeowners protect their family and their property from these hazards, Woods Hole Sea Grant and the Cape Cod Cooperative Extension have produced the newly updated Massachusetts Homeowner's Handbook to Prepare for Coastal Hazards.
The handbook provides Massachusetts residents with vital information on how to prepare themselves and their families for hurricanes, nor'easters, and floods, and the measures that can be taken to protect their homes in advance of a storm.
Visit our website to learn more and view a pdf of the handbook.
Out and About With Woods Hole Sea Grant!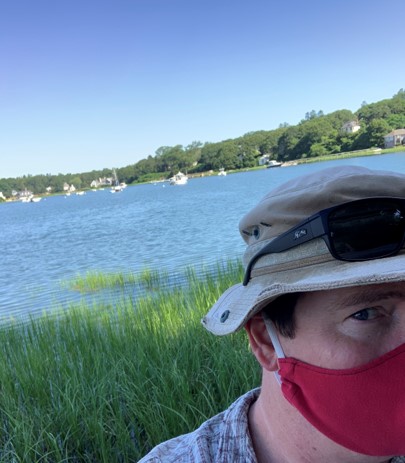 Coastal Processes Specialist Greg Berman looks like he's up to something! And in this case, he is - helping protect our fragile Cape Cod coastline and the residents of our region as we face increasing challenges from sea level rise and climate change.
Greg and his extension colleagues were pleased to begin to return to the field this summer after several months of  virtual meetings and consulations. For more on Greg's work, visit our Community Engagement page.
Donate to Woods Hole Sea Grant!
Click the donation link on the Woods Hole Sea Grant website and directly support the important coastal research, extension, and education at Woods Hole Sea Grant. We thank you in advance!
Stay in Touch!
Sign up for Woods Hole Sea Grant's quarterly newsletter:  seagrant@whoi.edu
Join this listserve to find out about marine-related events from organizations in southeastern Massachusetts.