APRIL 2020 CONTENTS
Letter From the Director

Important Update on Shrink Wrap Recycling Program

Booth Joins WHSG/CCCE

Brodeur Returns To WHSG Following USCG Assignment 

Out and About With Woods Hole Sea Grant
SUBSCRIBE
ISSUE ARCHIVE
» Read past issues of Coastal Impacts
CURRENT ISSUE
Letter From The Director
Resilience. This concept has been a special focus area for the Sea Grant program in one form or another for decades.
In its most recent iteration, it refers to helping coastal communities "prepare for and adapt to changing conditions", such as the Municipal Vulnerability Preparedness plans developed here on Cape Cod through the efforts of our staff and highlighted in this issue of "Coastal Impacts."
However, with the recent COVID-19 crisis, it has taken on an entirely new meaning for our program, as well as many of our most valued stakeholders.
With children in Massachusetts and across the country out of school and hunkering down at home, our education and communications teams leapt into action to set up a website with ocean and environmental-focused online resources and webinars for parents and educators struggling to keep their kids engaged during the outage.
Our aquaculture extension agents played an important role in surveying seafood dealers and shellfish farmers about the economic impacts to their operations; this information was related to our elected officials in Washington D.C., which led in part to inclusion of stimulus funding for these essential small businesses. I appreciate the efforts of our Sea Grant staff in responding to the needs of our stakeholders and partners.
As a native of Massachusetts, I've witnessed the resilience of our communities in previous crises and was inspired by those responses. While this is certainly a new and unique challenge, I find myself again inspired as I witness the response. And I know that resilience, for all of us goes beyond just a concept or even focus area – it's part of who we are and will continue to be.
Shrink Wrap Collection Postponed; Boat Owners Encouraged to Reuse Material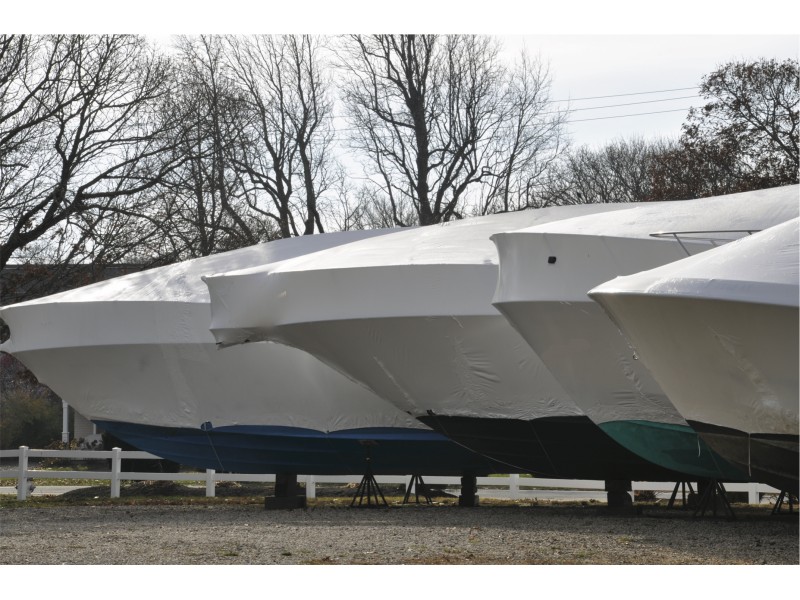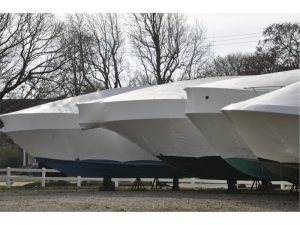 Due to concerns related to the COVID-19 outbreak, the boat shrink wrap recycling collection program operated by Woods Hole Sea Grant and Barnstable County's Cape Cod Cooperative Extension is currently on hold with hopes to resume it as soon safely possible.
In the meantime, if boat owners remove shrink wrap, they're asked to  remove it in a way that you can reuse it next year.
Please visit our boat owners page on our website for updates on our program.
We appreciate your support and understanding of our efforts. Feel free to contact seagrant@whoi.edu with any questions.
Booth Joins Woods Hole Sea Grant/Cape Cod Cooperative Extension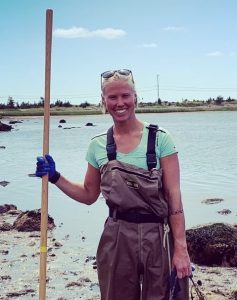 Woods Hole Sea Grant/Cape Cod Cooperative Extension is excited by the addition of our newest staff member, Marine Resource Specialist Harriet Booth.
Ms. Booth focuses on the water quality monitoring program as well as several shellfish related research and monitoring projects.  She is based in the Barnstable office and will work alongside Fisheries & Aquaculture Specialists Josh Reitsma and Abigail Archer.
Most recently she was with the Massachusetts Division of Marine Fisheries as an Aquatic Biologist working on managing shellfish restoration projects in Buzzards Bay.
She earned her Master of Science in Ecology, Evolution, and Marine Biology at Northeastern University in 2017 and has a Bachelor of Science degree in Marine Biology from Brown University.
When asked what she is most looking forward to in her new position she replied, "Initially, I was most looking forward to conducting research that both addresses stakeholder needs and that answers scientific questions - to me, this is the most rewarding and satisfying way to contribute to the marine science field. But what has also become apparent since starting this position, is how lucky I am to be a part of such a dynamic, supportive team of people who love the work they do and constantly inspire excellence in each other."
Brodeur Returns To Woods Hole Sea Grant Following Coast Guard Assignment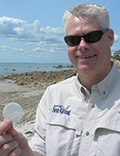 Communications and Outreach Specialist Jeffrey Brodeur returned to Woods Hole Sea Grant in January following an extended active duty assignment with the United States Coast Guard. 
Brodeur, a Lieutenant Commander in the Coast Guard Reserve, was assigned to Sector Southeastern New England (SENE) where he worked on a wide-range of emergency management and contingency planning topics, including area maritime security risk assessment, plans and exercises.
More recently,  he was focused on offshore renewable energy policy and planning and is looking forward to continuing to be involved in that emerging area of regional interest with WHSG along with his regular communication, outreach and marine debris mitigation efforts.
OUT AND ABOUT WITH WOODS HOLE SEA GRANT!
Fisheries and Aquaculture Specialist Abigail Archer greeted visitors to the Cape Cod Maritime Museum's first annual "Midwinter Shellfish Bash n' Hash" in February and served on a panel discussion as well! The event was a huge success and we were glad to be able to support our partners.
Donate to Woods Hole Sea Grant!
Click the donation link on the Woods Hole Sea Grant website and directly support the important coastal research, extension, and education at Woods Hole Sea Grant. We thank you in advance!
Stay in Touch!
Sign up for Woods Hole Sea Grant's quarterly newsletter:  seagrant@whoi.edu
Join this listserve to find out about marine-related events from organizations in southeastern Massachusetts.