Graduate Research Fellows Focus on Microplastics and Seabirds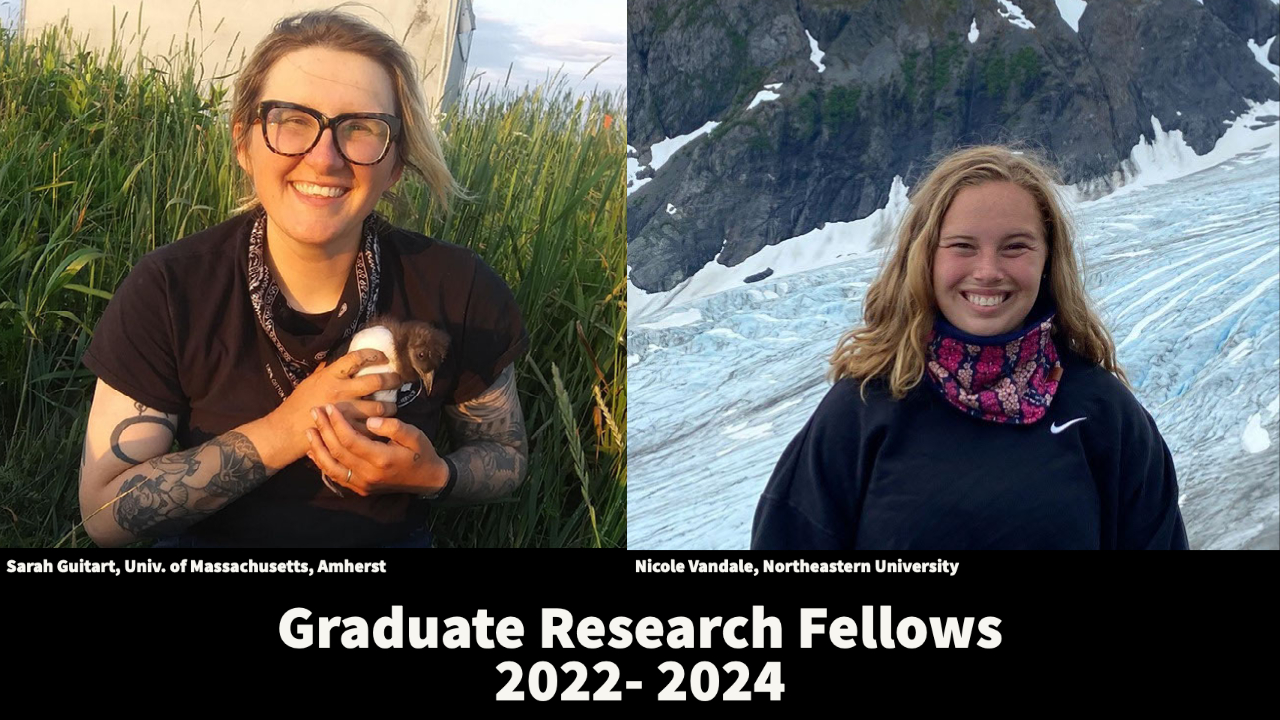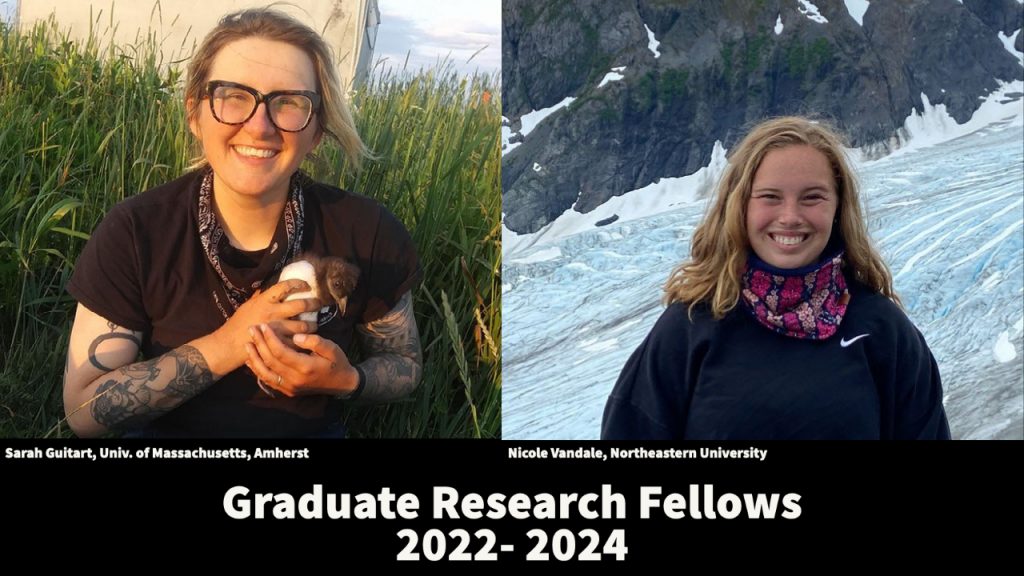 Woods Hole  and MIT Sea Grant Programs Announce Two New Massachusetts Sea Grant Graduate Research Fellows
August 8, 2022 — Last August, the Woods Hole and MIT Sea Grant programs announced a new joint fellowship program to support Massachusetts graduate students engaging in coastal and marine research. Two students have now been selected as the first Massachusetts Sea Grant Graduate Research Fellows — Nicole Vandale from Northeastern University and Sarah Guitart from the University of Massachusetts Amherst.
The focus of the two-year fellowship is to support new coastal and marine research, as well as professional growth for the fellows. Fellows will work directly with Sea Grant liaisons and professional development mentors to hone their communication, project management, and research skills. As part of their research, fellows will also share results with relevant communities and stakeholders, a key focus of all Sea Grant programs.
"Fellowships play a critical role in attracting top talent in ocean-related research," said MIT Sea Grant director Dr. Michael Triantafyllou. "The fellows undertake important research with impacts at the state and regional levels. Through this collaboration with Woods Hole Sea Grant, the students will have support and guidance from both Massachusetts programs to enhance the impact of their work."
Committed to building inclusive research, extension, communication and education programs, MIT Sea Grant and Woods Hole Sea Grant launched the fellowship in part to bring new and diverse perspectives into environmental fields. "We are excited to partner with MIT Sea Grant on this new fellowship program to support graduate students who otherwise might not have had funding to pursue their research interests in marine science," said Matt Charette, director of Woods Hole Sea Grant.
This fall, Nicole Vandale will join Dr. Aron Stubbins's Northeastern lab to research environmental microplastics, an emerging priority area for Sea Grant. "The Fellowship is allowing outstanding students to conduct their own research," said Dr. Stubbins. "I am thrilled to be able to work with Nicole as she pursues new knowledge about plastics in coastal waters."
By examining microplastics in Massachusetts waters and sediments, they hope to drive a greater understanding of how microplastics become distributed in coastal systems across seasons.
"Boston is one of the largest cities in the United States, yet there are no major studies of microplastics in the estuarine system surrounding it," explained Nicole. "With increased potential for runoff due to metropolitan activity, it is important to get an accurate idea of concentrations in the harbor."
Originally from Holden, Massachusetts, Nicole gained experience working with the National Estuarine Research Reserve in Alaska as a NOAA Hollings Scholar, and led a microplastics monitoring project at Eckerd College, where she graduated with a Bachelors in Marine Science this May.
Sarah Guitart began her seabird ecology path in the Boston University Marine Program, where she compiled and analyzed a thirty-year dataset of seabird aggregation sizes observed within Stellwagen Bank National Marine Sanctuary.
Now, she will conduct field work in Buzzards Bay, collecting foraging data on the Common tern and the Roseate tern, an endangered species on both the Massachusetts and Federal lists.
Seabirds like terns are often viewed as indicators of healthy ecosystem conditions. "I am interested in understanding not only how seabird foraging ecology is impacted by anthropogenic factors, but also how I can collaborate with stakeholders to address these impacts," she said.
Sarah will compare her findings to data collected as far back as 1971. Data and outcomes from the analysis will be shared with wildlife managers and partners across the northeast region.
Sarah will also work with the Northeast Climate Adaptation Science Center, a network of organizations working with natural and cultural resource managers on climate change issues.
Dr. Michelle Staudinger, Sarah's advisor in the Department of Environmental Conservation at the University of Massachusetts Amherst looks forward to the findings. "I am excited to work with Sarah on improving understanding of how seabirds diets may be shifting as a result of climate change," she said. "This project would not have been possible without support from the Massachusetts Sea Grant [programs]."
_______________________________
WOODS HOLE SEA GRANT — The Woods Hole Sea Grant program, based at the Woods Hole Oceanographic Institution (WHOI), supports research, education, and extension projects that encourage environmental stewardship, long-term economic development, and responsible use of the nation's coastal and ocean resources. It is part of the National Sea Grant College Program of the National Oceanic and Atmospheric Administration, a network of 34 individual programs located in each of the coastal and Great Lakes states. Together, these programs form a national network of over 300 participating institutions involving more than 3,000 scientists, engineers, educators, students, and outreach experts.
MIT SEA GRANT — MIT Sea Grant is a Federal-Institute partnership that promotes the conservation and sustainable development of coastal and marine resources through research, education, and outreach. Bringing the engineering and research core of the Massachusetts Institute of Technology to bear on ocean-related challenges, MIT Sea Grant engages with a diversity of communities and stakeholders to enable scientific investigation, develop technology, and support solutions surrounding ecosystem health and human use of these environments in collaboration with industry, state and federal partners.